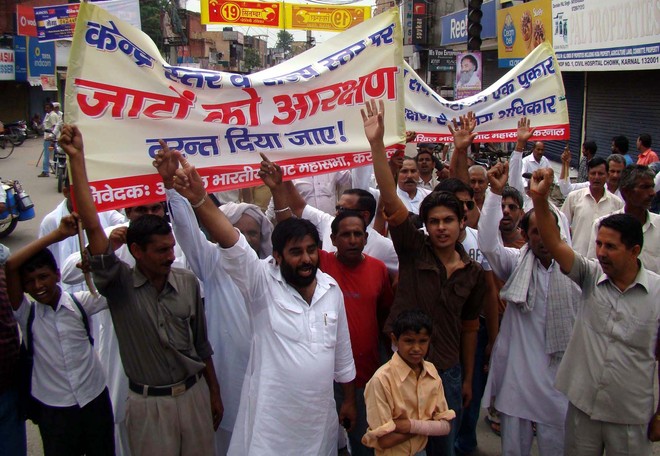 The Jat quota imbroglio is set to give a tough time to the Haryana Government. With the Yuva Jat Fauj and the OBC Brigade flexing their muscles over the reservation issue, a confrontation is building up in the state which could have serious law and order implications.
The ruling BJP seems to be between the devil and deep blue sea on quota for the dominant Jat community, which had been rejected by both the Punjab and Haryana High Court and the Supreme Court. The Jat community has the support of two senior Jat ministers in the Manohar Lal Khattar ministry, while the OBCs are led by party's Kurukshetra MP Rajkumar Saini.
What has set the alarm bells ringing for the governments in the state and at the Centre is Jats' threat to cut off the supplies of essential commodities to Delhi from September 28. Besides, the Jats have already started "recruitment" for its Yuva Jat Fauj to fight for restoring reservation to the community and take the matter to its "logical conclusion".
On the other hand, the OBCs, under the leadership of Saini, have announced its decision to form 1-lakh strong brigade to stall the Jat agitation. They are reportedly angry with the Jats eating into their quota share for government jobs and admission to educational institutions.
Even as the tug-of-war between Jats and OBCs continues, the reported move by Jats to join hands with the Patels of Gujarat portends ill for peace and tranquility in the state. The earlier agitations by the Jats had invariably ended in violence with damage to public property reported from several places.
The Jat quota issues is likely to rock the Assembly session beginning on September 2 with the Congress and the INLD set to embarrass the BJP over the "mishandling" of the issue by the state and the central governments.
On back foot, the government recently decided to Jats, Jat Sikhs, Rors, Tyagis and Bishnois to "provisionally" apply for government jobs under the Special Backward Class (SBC) category till court decides the matter.
The previous Congress government had given special 10 per cent reservation to Jats, Jat Sikhs, Rors, Tyagis and Bishnois in the run-up to last year's Lok Sabha Assembly elections.