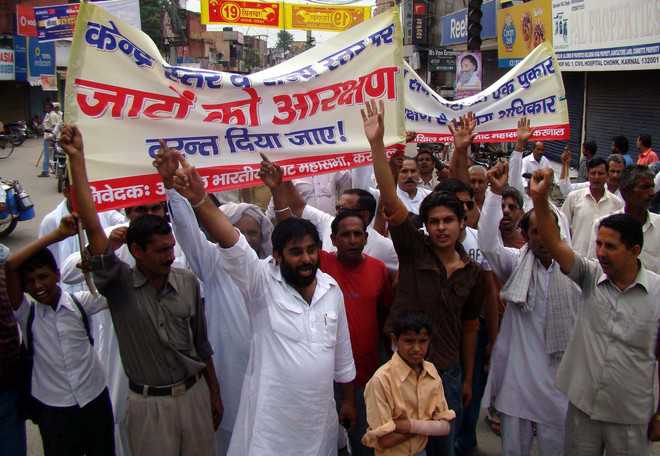 Differences among Jats over dates for starting their proposed agitation for reservation has caused confusion among the community. The lack of unity is all set to weaken the proposed agitation as repeated meetings of the state-level coordination committee has failed to produce results.
Leaders of the Samast Jat Samaj Sangathan (SJSS) have announced to seal the borders of the state from February 15 to press for reservation under the OBC category. However, the Akhil Bharatiya Adarsh Jat Mahasabha (ABAJM) has been preparing to launch its agitation from the Narwana sub-division of the district from February 7 after a mahapanchayat. The khaps in the state and some Jat leaders have been planning a state-level meeting on February 14 in Garhi Sampla.
"Earlier, we fought and got reservation for Jats under the banner of Sarv Jat Khap Panchayat and now all Jats are fighting for reservation under the SJSS. However, some leaders due to their vested interests are announcing separate dates to weaken our agitation. We want to clarify that only the SJSS is the main body of the Jats," said Sube Singh Sumain, spokesman of the SJSS.
President of the ABAJM Dr Pawanjit Banwala said they enjoyed maximum support of Jats and confirmed that they had not invited the SJJS.
"We have called a mahapanchayat on February 7 in Narwana where 80 khaps and main Jat leaders will participate. During the mahapanchayat, we will announce our final agitation plan to press the government for reservation," he said.
Even the 11-members state-level coordination committee formed here on September 27, 2015, to bring unity among all Jats has failed to see any positive result despite repeated meetings.
"We know that there are differences between various khaps, samitis and committees over the issue of starting an agitation for reservation. We have been trying to unite all," said Tek Ram Kandela, coordinator of the coordination committee.