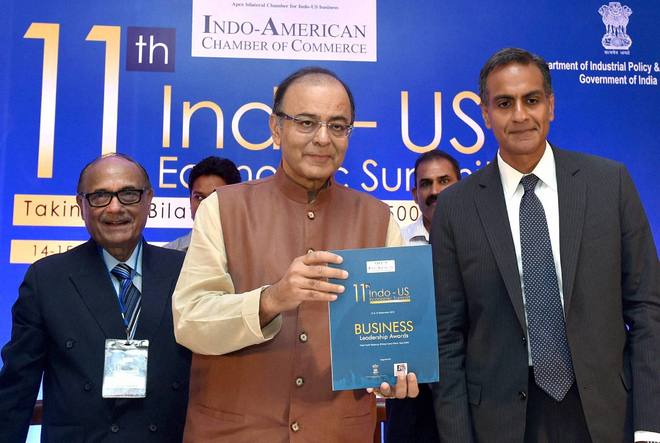 Finance Minister Arun Jaitley has invited US companies to take advantage of the huge investment opportunity in the infrastructure sector and raise bilateral trade to $500 billion.
Jaitley was speaking at the 11th Indo-US Economic Summit, which was organised ahead of Prime Minister Narendra Modi's second visit to the US later this month. US Ambassador to India Richard Verma was also present.
On the growing Indo-US ties, he said, "Our ambitions are extremely high. Both the US President and the Prime Minister have now set an ambitious goal of bilateral trade to increase it by five times from $100 billion to $500 billion over the next few years. And this is defying a situation where the world itself is passing through turmoil."
Stressing that the government has been able to deal with most of the legacy issues in taxation and put them to rest, Jaitley said efforts have been made to evolve the "fairest" taxation regime, promote ease of doing business, speed up the pace of decision making and usher in a stable policy regime.
As far as improvement in ease of doing and ensuring a predictable taxation regime are concerned, the Finance Minister said, "These are work in progress".
On investment opportunities in India, Jaitley said, "There is a lot of space in the infrastructure sector... Like roads, ports, railways and clean energy."
He also expressed hope that the target of raising Indo-US bilateral trade to $500 billion from $100 billion currently would be achieved in the next few years.