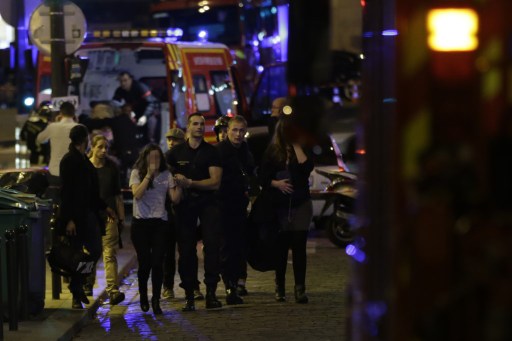 People are evacuated following an attack at the Bataclan concert venue in Paris, on November 13, 2015. At least 18 people were killed in multiple attacks in Paris Friday, including one near the Stade de France sports stadium. AFP PHOTO / KENZO TRIBOUILLARD
Antalya: A day after Paris attack, ISIS terrorist blew himself up in southern Turkey on Sunday, killing 4 policemen.
The attack came on a day when World leaders have congregated to attend G20 summit.
Prime Minister Narendra Modi arrived in Turkey's Mediterranean city of Antalya on Saturday after a three-day visit to Britain for the annual G20 Summit meeting that gets underway on Sunday.
Following the series of attacks in Paris, Turkish government deployed 13,000 police officers to maintain security ahead of the summit which starts today.
The meeting comes one month after a suspected suicide bombing attack in the capital Ankara that killed over 100 people.
In an attack that is being touted as the deadliest of its kind that France has faced since World War II which has left the nation reeling from grief after 129 Parisians were killed.