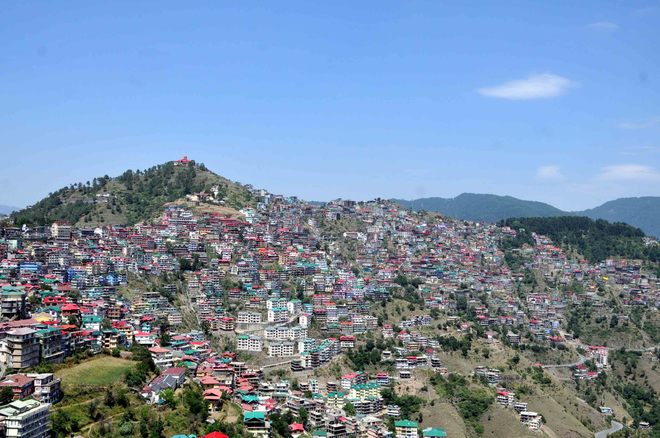 Environmentalists and planners are concerned over the 'unusual rise' of the minimum temperature in the city in the recent years.
They have blamed the increased human activity for the climate change.
The minimum temperature in Shimla is between 8 and 15 degree C, which is quite unusual while there is no perceptible change in the temperature at Manali, Bhuntar, Una and Sundernagar.
The altitude of the city is over 7,000 feet while the altitude of other places ranges between 3,000 and 5,000 ft but the temperature in Shimla is higher. The cause of concern is that as per data from 1902 to 1990 compiled by the Met Department, the average minimum temperature in Shimla during November, December, January, February and March are as low as 7.0 degree C, 4.1 degree C, 1.9 degree C, 2.7 degree C and 6.5 degree C.
The temperature was 10 degree C, 11.2 degree C and 13.5 degree C on December 4, 5 and 6, higher than the average maximum temperature during these months.
"The geographical area of Himalayas is almost same but human activities have changed drastically, altering the eco-system," said Prof Shyam Singh of NIT, Hamirpur.
"The shrinking green cover, rise in concrete structures, pollution caused by ever-increasing number of vehicles are responsible for the change as these factors cause variation in temperature," he said, adding that concrete structures absorb heat during the day and release it at night.
"Haphazard construction and increased human activity are responsible for the rise in mercury and its impact on the basis of seismic parameters should be watched," said earthquake expert Arun Bapat.
The sharp increase in the number of multi-storey concrete buildings has wreaked havoc but the government is unconcerned and thinking to bring the new retention policy to regularise illegal buildings.
"It has amended the rules to raise the height of the buildings up to 21 m spelling doom," said a retired chief architect.
The number of registered vehicles in the town and its suburbs is over 80,000 and hundreds of vehicles come to the town from outside every day, causing pollution and radiating heat.
The impact of climate change is also visible in the area as heavy snowfall has become a thing of the past, barring 1961, 1971, 1982, 1990 and 1991 when the town witnessed heavy snowfall.
The snowline is receding and even places like Kufri near Shimla and Narkanda, famous for skiing, are receiving less snowfall.