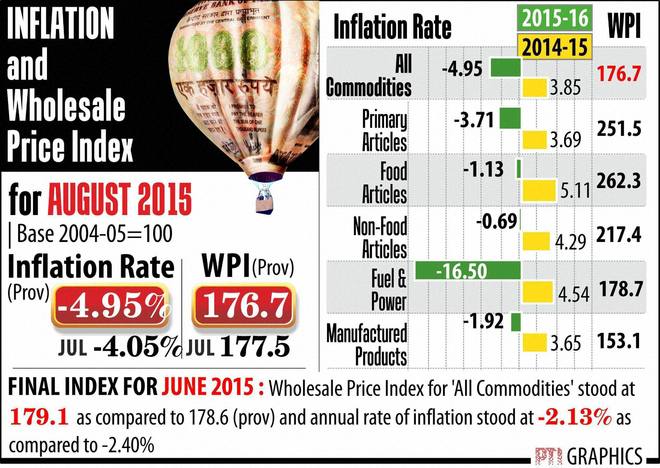 With deflation becoming a pronounced trend for 10 months in a row and headline inflation falling to an all-time low of (-) 4.95% in August and retail inflation below the central bank's trend line of 4%, the consensus estimate is now fairly certain about an impending 25 basis points rate cut in this month's monetary policy.
The Wholesale Price Index-based inflation was (-) 4.05% in July. It has been in the negative zone since November 2014. In August 2014, inflation was 3.85%.
Chief Economic Adviser Arvind Subramanian had recently flagged deflation as a challenge for the economy and had said inflation is not a worry as it has been decelerating. This was read as a signal to the RBI which has been targeting inflation as a priority while the government and industry have been insisting that the challenge is boosting growth and demand.
Finance Minister Arun Jaitley said inflationary pressures continued to moderate across-the-board in August. Retail inflation was at 3.66%.
He said the core inflation (excluding food and fuels) decelerated to 4.1% in August 2015 from 4.3% in July and thereby, continuing the momentum of decelerating core inflation. He said both categories of inflation indicate that it continues to moderate and seems to be under control.
Devendra Kumar Pant, chief economist, India Ratings & Research, said despite higher inflation for pulses and onion, food article prices witnessed deflation for second consecutive months. Food prices have been able to withstand three adverse weather shocks in past one year — sub-par monsoon in 2014 (affecting kharif output), unseasonal rain (affecting rabi output) and sub-par monsoon in 2015 (affecting this year's kharif and rabi output).
He said commodities continued their southward journey and headline WPI remained in deflationary mode for the past 10 months. "Ability of economy to withstand adverse weather shock will not only be good news for government but even for RBI. Movement of WPI will have an impact on CPI also and chances of a 25 basis points cut in repo rate on September 29 have brightened," he added.
Commenting on the August data for WPI inflation that was released today, Chandrajit Banerjee, Director-General, CII, said Indian industry continues to be under the grip of deflation. With the WPI falling by 4.9% compared to its level a year ago, price pressures are at a record low. The index has declined for the 10 consecutive month indicating slackness in economic activity across sectors.
He said given that CPI inflation has also been declining, the RBI needs to reduce interest rates sharply to drive a recovery in demand. CII expects the RBI to reduce interest rates by 50 basis points in the forthcoming policy, he added.