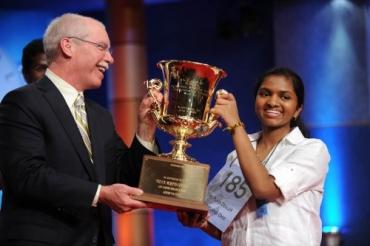 Anamika Veeramani, 14, an eighth grader from Incarnate Word Academy in Parma Heights, Ohio won the National Spelling Bee on Friday.
Shantanu S Srivatsa, 13, an eighth grader from Cheney Middle School in West Fargo, North Dakota lost to Anamika in the last round.
This is the third consecutive year an Indian American has won the Scripps Howard National Spelling Bee. Last year, Kavya Shivasankar of Kansas had won the contest while in 2008, Sameer Mishra became the champion.
Other Indian American winners in the past are: Anurag Kashyap (2005); Sai R Gunturi (2003); Pratyush Buddiga (2002); George Abraham Thampy (2000); Nupur Lala (1999); Rageshree Ramachandran (1988) and Balu Natarajan (1985).
Anamika spelt a number of tough words correctly in the first round including nahcolitenahcolite, epiphysisepiphysis, juvia and stromuhr
"I am very, very happy to win the spelling bee," she said immediately after her victory.
Aditya Chemudupaty, 13, an eighth grader from Nolan Ryan Junior High School in Pearland, Texas also reached the finals, but lost in the first round.