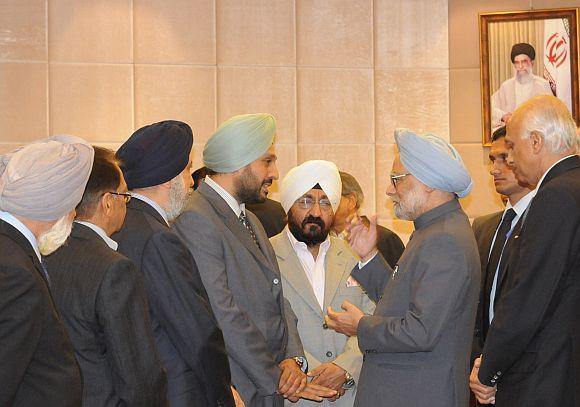 Nikhil Lakshman
in Tehran
As the NAM summit opens in Tehran on Thursday, Nikhil Lakshman, who is traveling with the prime minister, captures the mood in the Iranian capital.
Bhavishmeet Singh Patwalia plans to go to Moscow to pursue medical studies after he finishes school. Bhavishmeet is the head boy at the Kendriya Vidyalaya in Tehran, one of 190 students of all ages at the Indian school in the Iranian capital.
His father is a doctor, a Sikh who was born in Tehran. Why doesn't he want to go to medical school in India, I ask. "It is too tough to get admission there, especially for students from abroad," says Bhavishmeet.
Pushvir Atwal, the school captain at the Kendriya Vidyalaya, wants to be a dentist and may go to dental school inIndia. Her father too is a Sikh who was born in Tehran and is a successful importer of butter.
Jasmehar Singh is quite the rock star, strumming a guitar in anticipation of the ensemble act the school's senior students are performing for Gursharan Kaur, the Indian prime minister's wife who is visiting the Kendriya Vidyalaya on Wednesday morning.
His father, like Bhavishmeet's and Pushvir's dads, was born in Tehran and is a businessman. At some stage in his life, Jasmehar says he would like to go to London and perhaps become a musician.
Bhavishmeet wears a turban; Jasmehar a
patka
. Jasmehar says he has never heard of a Sikh man or boy being bullied in Tehran for wearing the articles of their faith. All three children are part of the Sikh community that has lived in Iran for close to a century. The Sikhs began migrating to Iran from the Punjab in the 1920s, settling down in Tehran and in Balochistan.
Today, there are about 76 Sikh families in Tehran, an elderly Sikh gentleman escorting us to the Kendriya Vidyalaya from the gurdwara next door, tells me, and about four Sikh families in Zahdem in present day Iranian Balochistan. "Four -- husband, wife, two children -- multiplied by 80 (
families
),
sab mila ke honge
320," he adds.
Many Sikhs left Iran after Ayatollah Khomeini seized power in 1979, apprehensive of their fate in the Islamic Republic that swore its allegiance to the Shar'ia. The rest settled down to an uneasy existence in a country that constantly imposes many restrictions on its citizens.
None of the children this reporter spoke with express any disenchantment with being Iranian. "We are Iranians, but Indians too," one tyke, who enchants the audience later with her enthusiastic dancing, tells us. None of the children say they plan to live anywhere than the country where their parents were born.
The adults, most of whom are businessmen, are not sure though, having seen many migrate to the West and elsewhere in recent years. And even though they have been born and brought up in Iran, the elderly still nurture that classical dream of the Indian Diaspora -- of Iiving their sunshine years in the Mother Country.
Click on NEXT to read further...