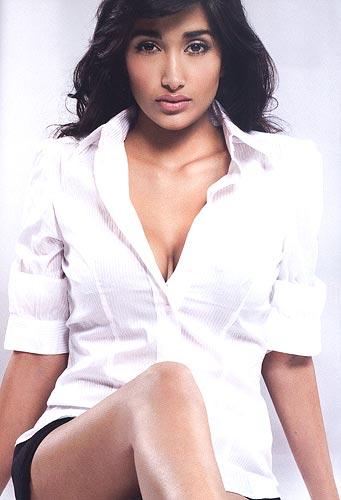 Jiah Khan
looks ravishing in the latest
Maxim
issue, as she poses for the camera. Here's a look at her hot photoshoot, and what she had to say about it. Excerpt from the magazine.
How was your first ever Maxim shoot? Did you enjoy it?
It was quite interesting, but it was quite a lot of work too. It's a lot of hard work trying to look sexy, and contrary to the image that the media has about me, I'm quite conservative and acting sexy is not really me.
Really? Are we hearing it right?
(
Giggles
) I am just being me, I guess I was just born sexy then. But it sure is hard work, pretending to be sexy.
Aha! So do tell us what's been your best on-screen moment so far?
There are lots of them, and I can't really rate one above the other. But if you really insist, it was something which happened quite recently. While I was shooting with Aamir Khan, there was this one scene which was quite complicated. And I managed to wrap it all up in one take, and after the wrap, Aamir gave me this nod of appreciation, and coming from him that 'one' nod made my day.
Were you happy with your first movie, Nishabd?
(
Laughs
) I was quite pleased, happy to be precise, with a twist of shock for good measure. Shocked because it was my first big movie, and that too with someone like Ram Gopal Varma directing it.
That bring us to what we've been waiting to ask. How did you prepare for the role?
Everything was in the moment. I'm a method actor so there was not a lot of things I needed to prepare myself for. Though I did practice and prepare myself for the way she behaved as a girl, the way she would sit and more such mannerisms. It was quite fun.
Do you prefer older men or the younger lot, with heaps of testosterone like us? In other words, what sort of men do you go for?
Depends on the day (
Giggles
). Age is not really a criteria for me. What does it for me is a man who is powerful in his element...
Wow! That's not a lot to ask for. Would you care to elaborate, please? Like, should he be good looking too?
Looks do matter, if it is tall dark and handsome, but more important than that, is the power behind the man and his aura. For me, it has more to do with the chemistry. If there is no chemistry, it never works out.
What is the best way to win your heart?
(
Giggles
) I'm a hopeless romantic, so when it comes to that, the more romantic, the better. Champagne, candle-lit dinners and red roses are just par for the course, but the sad part is no one has done even that for me yet.
Why? You are pretty, attractive and a lot of other adjectives put together, why wouldn't anyone do it for you?
(
Laughs
) Yes, thanks for the compliment. But apparently, I come across as pretty intimidating to most men. And I believe there is a dearth of confident men around.
Maybe you should come by the Maxim office. Tell us some things most men don't know about you.
I am quite the geek and I've always been a geek. You won't believe it but right now my hobby and passion is astronomy. And I spend most night indoors in my own house curled up with a book. I used to watch a lot of Tom and Jerry as a kid too!
Cool. You are almost like one of the 'boys'. So, what is your favourite sport?
Don't know if you call it sports but Formula One definitely, nothing like fast cars and the sound of the engine. It is so cool.
Are you a speed freak?
(
Smiles
) Yes and no. I love fast cars and being in a fast cars but unfortunately I do not have a driver's licence! While I was going through the driver's test sometime back, a friend of mine started racing with me and I was so lost in the moment that I started driving really fast too. So I guess the instructor felt I was not safe to hit the roads yet. (
Gives us one of those wicked laughs
).
That's a little scary, but we are beginning to like you. Care to tell us if you are single or dating, so we could book a flight to Mumbai?
I'm definitely single, and before you ask -- I'm not ready to mingle (
Laughs
). I plan to be this way for another six months at least; need to concentrate on my career.
We hear that we are going to see you in Ghajini very soon. Do tell us why the readers of Maxim should see this movie? What can they expect?
The first this is that it's a great script, and Aamir is looking absolutely fabulous and very different. And secondly, I actually play the role of a doctor, quite a serious role unlike my 'Lolita' image. The audience would get to see a more serious side of me, a facet that they haven't seen before. And it's Aamir and me in the same frame for the first time (
Smiles
).
We need a break!