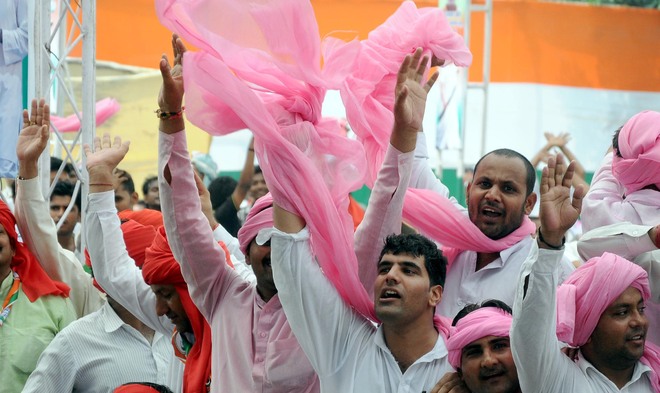 Supporters and workers owing allegiance to various camps within the state unit of the Congress adhered to the colour code in the Kisan Samman rally held at Ramlila Ground today. They sported turbans and mufflers of different colours. Hundreds of activists from the district took part in the event.
"All workers sported red turbans, as we wanted to show our presence at the function organised to exhibit the victory of the party over the land bill," claimed Vikas Chaudhary, a local leader. He said headgears and red mufflers were distributed to the workers just before the rally.
Tarun Tewatia, son of former Congress MLA Raghbir Singh Tewatia from Prithla village, said the supporters who attended the rally wore pink turbans, as it was the colour chosen by the workers at a recent meeting. While Naresh Godara and his supporters wore red turbans to show their support to HPCC chief Ashok Tanwar, the workers owing allegiance to Lalit Nagar, Tigaon MLA, Shiv Charan Lal Sharma, a former state minister, and Lakhan Singla, a local leader, sported pink turbans to show their loyalty to the former CM Bhupinder Singh Hooda camp.
However, there were some, including Sumit Gaur, a prominent worker and his supporters, who did not sport any colour at the rally. "The rally has also perhaps renewed or reflected the internal division within the party cadre of the two main camps and this took place despite no official directions from the party headquarter," claimed a local activist. "We donned the colour that we were told to wear," said Mukesh Kumar, a local resident.