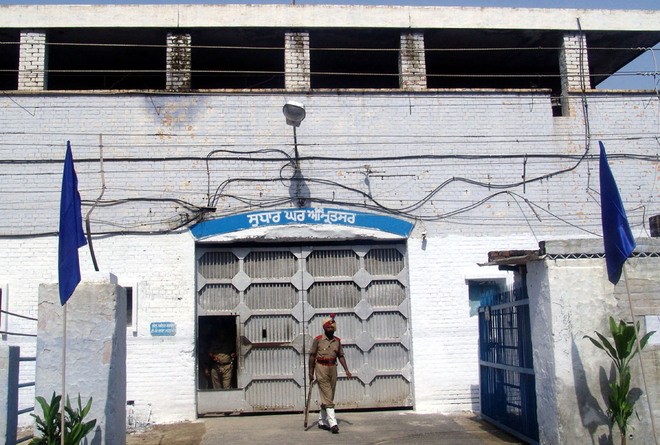 Abdul Sharif (38), a Pakistani, is behind bars for the past 18 years. Now 38, he has been interned since April 14, 1997.
However, the Punjab and Haryana High Court's cognisance about facilitating repatriation of foreign prisoners while making the Union Government a party recently has brought a ray of hope for him and at least 24 such prisoners, who are confined to the transit camp of the Amritsar Central Jail.
A majority of them have lost their balanced state of mind due to stressful environment in jail. They have failed to convince the representatives of the Pakistan High Commission and the Indian Ministry of Home Affairs.
Out of 25 internees (as they have been termed) confined to the Amritsar jail transit camp, there are 24 Pakistani nationals and a Bangladeshi woman.
Jail Superintendent RK Sharma said most of them were not in a position to interact due to serious mental health issues.
"A few of them suffer from chronic depression and many from schizophrenia. Now, many of them are not in a position to recall their background. Unfortunately, they are in jail despite the fact that their sentence (as minor as of six months) has already elapsed," he said.
Abdul Sharif was granted consular access in August 1998. The address mentioned in the jail records say he was a resident of Zabul in Balochistan, but the geographical location points that Zabul is a province in Afghanistan as well. It shares border with Balochistan in Pakistan and is a tribal belt. That was the technical flaw to ascertain his real identity.
It has been learnt that he had left his home when he was six years of age as his father used to beat him too often over petty issues. He grew up at various dhabas in Pakistan.
He crossed the Indo-Pak border in 1997 just to have a glimpse of Bollywood actor Pooja Bhatt.
He was caught by the BSF and handed over to the Gharinda police. He was booked under Sections 43/97, 3/34/20 of the Indian Passport Act, 1967, and Section 14 of the Foreign Act.
"He was to be detained just for four months as per records for not having a legitimate passport and travelling documents," he said.
Identical was the case of Shukla Ghosh. The jail records mentioned her address as daughter of Kiran Mohan of Pakistan, but she claimed herself to be a Bangladeshi.
She was booked under Sections 3/34/20 of the IP Act and Section 14 of the Foreign Act with the Bhikhiwind (Tarn Taran) police. She was provided counsel access in 2000 and 2006. Her antecedents are still "unknown".
Despite her completion of sentence in October 2000, she is detained in a transit camp because neither the Pakistan nor the Bangladesh authorities could accept her nationality.
Meanwhile, by court order she was getting compensation of Rs 100 per day since 2006, which is being paid by the Punjab government.
Another exceptional case was of Fahim Sadiq, alias Ehmad Ali alias Najamudeen. Records say he is as a resident of Johar Colony in Ghaziabad, Pakistan. He was booked by the Ludhiana police on February 7, 2011, and was accused of being an ISI agent. Fahim (40) claimed that he crossed the border just to watch the Indo-Pak cricket series at PCA, Mohali, in 2011 and was caught for want of valid documents and passport.