A senior Hamas official who had crossed the border into Egypt from Gaza said Thursday his fighters are "still strong" and vowed to continue fighting despite a continuing ground and air assault by Israel that has killed more than 700 people in the Palestinian territory.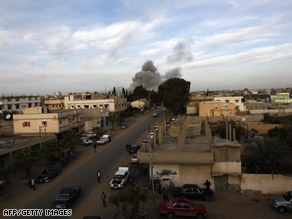 Speaking in Rafah, Egypt, senior Hamas official Ghazi Hamid told CNN's Karl Penhaul that Hamas "will not give up" or give in to Israel's demand for immediate end to rocket attacks.
"We will not wave the flag and we will try to protect our people, said Hamid. "But I want to say that we as Palestinian people want to live in peace, security -- but I think [Israel's] occupation force will not give us the chance."
Ten Israeli soldiers and three civilians have also been killed since Israel launched the offensive nearly two weeks ago with the stated goal of stopping the rocket attacks.
The interview was interrupted by what appeared to be Egyptian intelligence officials, who hustled Hamid back toward the
side of the border.