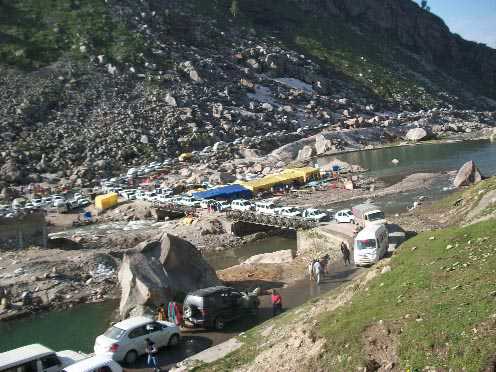 The state government will set up a Rs 2 crore booster CNG filling station at Manali in pursuance of the National Green Tribunal (NGT) directives and will invite private players to run eco friendly CNG buses between Manali and Rohtang.
With the possibility of having a CNG pipeline up to Manali being ruled out, the state government has decided to set up a Daughter Booster CNG filling station at Manali. Under this system the CNG will be transported in caskets which will fill up the daughter filing station at Manali, which will provide supply to the vehicles.
"We are in touch with the Gas Authority of India Ltd (GAIL) and have decided to set up a daughter CNG filling station at Manali so that CNG vehicles can run between Manali and Rohtang," confirmed Ajay Mittal, Additional Chief Secretary, Transport. He added that Deputy Commissioner, Kullu, had been asked to provide about 1,500 sq m of land for the setting up of the station.
To tide over the problem till the Daughter CNG Station comes up next year, it has been decided to transport the CNG in caskets for filing up the CNG vehicles. The Transport Department today wrote to the Petroleum and Explosives Safety Organisation (PESO), Nagpur to grant permission for this temporary arrangement of transporting CNG and filing up the vehicles directly.
The PESO looks into all issues pertaining to safety in manufacture, storage, transport and handling of explosives, petroleum, compressed gases and other hazardous substances under the Explosives Act 1884, Petroleum Act 1934, Inflammable Substances Act 1952 and other rules framed under Gas Cylinder Rules, 2004 and the Static and Mobile Pressure Vessels (Unfired) Rules 1981.
Mittal said the setting up of this station will have to be done in strict adherence of safety norms while handling the CNG. It could take up to eight months before the station starts functioning. "We are hopeful that the Daughter CNG station will be ready by the time the next tourist season begins in April," he said.
The complete ban on all commercial activity between Rohtang and Manali has severely hit the tourism sector on which a sizeable population of the area is dependent. The state government is also pursuing the possibility of starting battery-operated buses in the area and is in touch with organizations like the Green Growth Institute who have an expertise in the field.
In its order on May 5, the NGT had imposed a hefty environmental compensation charges on the Rohtang-bound vehicles and also restricted their number to 1,000 per day, including 600 petrol and 400 diesel vehicles.
The NGT has now imposed complete ban on plying of petrol or diesel vehicles to Rohtang. As such the state government is keen that CNG vehicles be started at the earliest.