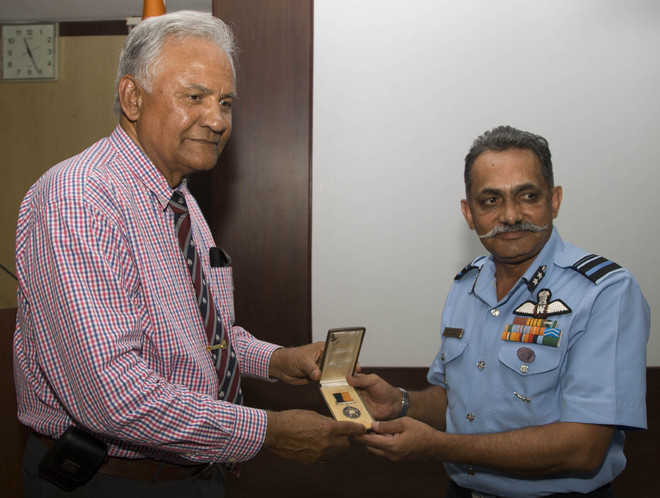 Fifty years after he shot down a Pakistani Sabre and damaged another in aerial combat, a veteran of the 1965 war has a time-tested lesson for the present and future generations of IAF pilots — Go beyond the training manual and be innovative.
"You need to know the training books, your capability and the capability of your machine backwards, but you also need to go beyond the books," Flight Lieutenant Alfred Tyrone Cooke, who was decorated with the Vir Chakra during the war, said. The 75-year-old air ace, who is now settled in Australia, was at the Air Force Station, Ambala, to present his medal to his old unit, No.14 Squadron.
"The enemy pilots were aggressive, but they had their limitations," he said. "They went by the book and their tactics were very structured and indicative of US training, whereas our training methodology was different, enabling us to pre-empt some maneuvers," he said.
Carrying out a combat air patrol with his wingman over Dum Dum and Kaliakunda in the east on September 7, 1965, he was directed to intercept an attack by six Sabres. He took on three, while his wingman took on the others. "Sabres could turn quicker, but our Hunters were more powerful and faster," Cooke said. "The fight was fast and furious with a lot of maneuvers and at times we were so close to each other that I could read the enemy pilot's name stenciled on the back of his helmet and so low that my wingtip brushed the shrubs," he said.
The aerial combat had lasted about 10 minutes, which to Cooke had then seemed as a lifetime. "I had fought on an empty stomach. When I took off for the first sortie, the breakfast van hadn't arrived. On landing, I was told that the van had come and gone back, but no one remembered to save any food for me. So I grabbed a packet of biscuits before getting airborne again."
Cooke had more anecdotes from that day . "A sergeant, on seeing a bent fin with pieces of shrubbery sticking to it threatened to report me to the commanding officer for flying too low, while another airman pointed to the black residue on the airframe and accused me of firing my guns," he recalled. "On landing, I was still taxing on the runway when the engine cut out as the last drop of fuel was expended. That's how close it was," he said.