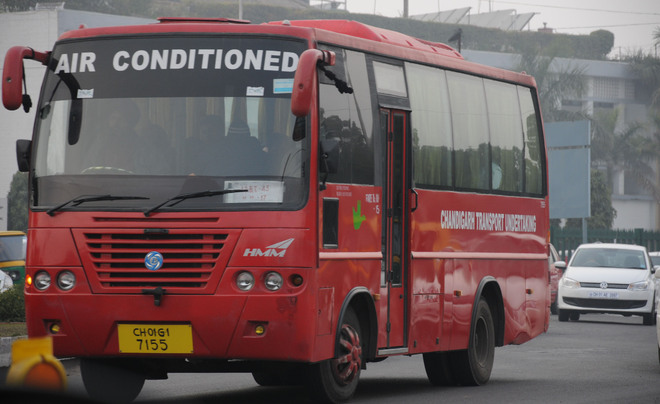 After a father-daughter duo shivered on an air-conditioned CTU bus on a cold December day last year, the UT Consumer Disputes Redressal Commission has directed the Director, Chandigarh Transport Undertaking (CTU), to pay Rs 10,000 as compensation for unfair trade practices. The CTU has also been directed to refund the amount of Rs 40, charged for two tickets, to the complainant.
The complainant, Birbal Sharma, a resident of Raipur Khurd village, filed a complaint against the Director, CTU, alleging unfair trade practices on the part of the undertaking as the cooling system of the AC bus was on during December, which made them shiver in the winter chill.
The complainant stated that he and his daughter boarded a CTU air-conditioned bus (CH 01 GA 7001) on December 28, 2014, from the bus stop near the airport light point for the Sector 43 bus stand. The conductor charged Rs 40 (Rs 20 each) for two tickets. According to the complainant, he and the other passengers were shivering due to the cold but there was no provision for a blower or a heating system on the bus, though it was air-conditioned and the fare for an air-conditioned bus was charged from them. In its reply, the CTU Director said the bus in question was air-conditioned and not HVAC. According to the specifications issued by the Ministry of Urban Development, the bus had a provision for air-conditioning only. It has been averred that there is no provision for a heating blower on the bus. Further, it has been averred that air-conditioned buses have fixed windows and to maintain the temperature in the bus, AC is required for ventilation to avoid suffocation. It has been further contended that since the air conditioner works during the winter season and consumes extra fuel, extra fare in these buses is justified.