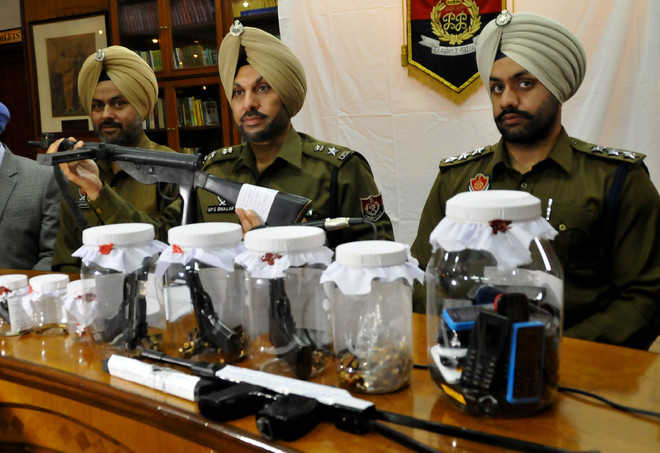 The CIA wing of the Mohali police claims to have busted a notorious gang of international drug smugglers, having a connection with Pakistan, with the arrest of three of its "most wanted" members and seizure of foreign-made firearms, including a Pakistani automatic double-magazine Sten gun, nearly 190 live cartridges, 31 mobile phones, a Pakistani SIM card and a Swift car from the Kharar area here.
The suspects, identified as Gurjant Singh, alias Bholu (26), Sandip Singh (25) and Jatinder Singh, alias Jindi (34), from Ludhiana have been involved in smuggling of heroin and other drugs from Pakistan on a large scale and in cases of murder, robbery, dacoity and forcibly taking away vehicles, said the police.
Mohali Senior Superintendent of Police Gurpreet Singh Bhullar said so far there was nothing to suggest that they had any connection with terrorist activities.
The recovered firearms included the Sten gun (.9 mm), two pistols (.9 mm), two other pistols (.30 bore) and an airgun.
Other gang members, including Jaipal Singh from Ferozepur, Tirath Singh from Dhilwan village, Faridkot, and Rachpal Singh, alias Dana, from Tarn Taran, are yet to be arrested.
Giving details, the SSP said the gang was active in Punjab, Rajasthan and Haryana. The gang members were involved in large-scale smuggling of heroin from Pakistan. "The gang has ties with a Pakistani smuggler, Imtiaz, and some members, including Bholu, had visited Bangkok on fake passports", said the SSP.
He said in 2010, the gang had smuggled 1.24 quintals of heroin from Pakistan. Later, the gang had smuggled 1.44 quintals of heroin and firearms, including the Sten gun, five pistols and cartridges, from Pakistan.
"We are investigating where they used to sell such a huge quantity of the drug," said the SSP.
He said apart from allegedly murdering one of their accomplices, Charath Singh, in March 2015 at Khemkaran, Tarn Taran, and another gangster, Raju Nakodaria, in 2010 in Ludhiana, the suspects were involved in several attempt-to-murder cases. They were also accused of opening fire at police parties.
During their interrogation, Bholu confessed that he, along with Dana, was arrested by the Amritsar police after 20 kg of heroin was recovered from their possession in March 2010. The court had pronounced a 20-year jail term to both of them in the case, but they fled from custody with the help of the Shera group in January 2013 when they were taken to the Ferozepur Civil Hospital for treatment.
Another suspect, Sandip Singh, had jumped parole in 2014. He had been lodged in jail for 12 years in connection with a drug case.
"In 2014, members of the gang had opened fire on a Rajasthan Police party after being trapped near the Hindu Mall Kot border, but managed to escape. The suspects had also opened fire when our CIA team was chasing them near Kharar," said Bhullar.
Inspector Gurcharan Singh, in charge of the CIA team, said they got information on December 29 that Bholu and Sandeep were going to loot some ATM on the Landran road using a Swift car. "When we challenged them, they opened fire at us, but we managed to overpower and arrest them," said Inspector Gurcharan Singh.
The police claimed that the gangsters were staying at Sunny Enclave in Kharar for the past around six months.
"On September 1 last year, we got information regarding the movement of the gangsters near Sunny Enclave, but they managed to flee before our teams reached the spot," said SSP GS Bhullar.