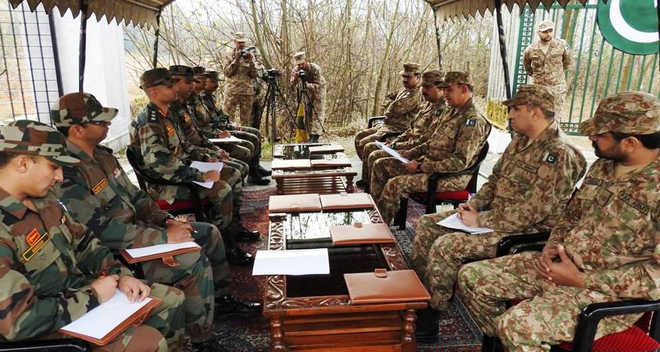 India and Pakistan today held a battalion commander-level flag meeting between their armies at Chakan da Bagh on the Line of Control in Poonch district.
"A battalion commander-level flag meeting was held at Chakan da Bagh in the Poonch sector at 11 am in a cordial atmosphere to take forward the confidence-building measures agreed upon at the Brigade Commander-level flag meeting on September 21," said defence spokesperson Lt Col Manish Mehta.
The representatives of the two nations deliberated on a host of issues, the important ones being ceasefire violations, return of inadvertent civilian crossers across the LoC, air space violations and construction activity close to the LoC, he said.
Colonel Mehta said in the meeting which lasted for nearly an hour and a half, the colonel-ranked officers leading their respective delegations acknowledged each other's efforts in maintaining peace and tranquillity on the LoC in the recent past.
Both sides mutually agreed on the importance of exercising restraint on the LoC and keeping the communication alive through the established reconciliation mechanism, he added.
The flag meeting ended on a positive note wherein the two sides exchanged pleasantries and sweets.
The Indian Army was represented by Col Himmat Singh of 14 Maratha Light Infantry, Col Vishi Singh of 11 Kumaon, and Lt Col Anurag of 2/9 Gurkha Rifles, whereas the Pakistani army was represented by Colonel Siddique of 24 Frontier and Lt Col Mohammed Ehsan of 36 Punjab.
"Both sides laid stress on stringent measures to stop the people from crossing the LoC. The Indian side also conveyed its grave concern over constructions by Pakistani residents close to Chakan da Bagh on their side of the LoC," said official sources.
It may be stated here that there has been a sudden rise in construction of buildings near the LoC by Pakistani residents, especially near the Chakan da Bagh crossing point.
Following the Director General-level talks between Pakistani Rangers and the BSF from September 9 to 13 at Delhi and the Brigade Commander-level flag meeting on September 21, peace has returned on the International Border and the LoC.
Bloody skirmishes since July 15 had left a trail of death and destruction on both sides of the border in the Poonch sector.