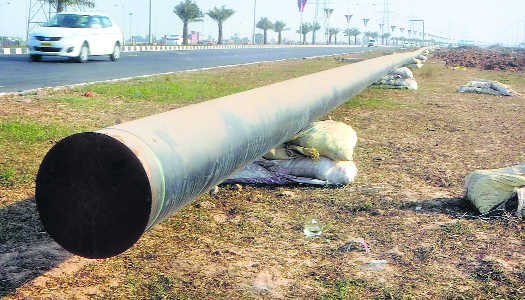 With work on laying the main pipeline nearing completion, residents of Chandigarh and Mohali will get compressed natural gas (CNG) and piped natural gas (PNG) from March 31 this year.
Sources said initially the Indian Oil Corporation, in a joint venture with Adani Gas, would provide the CNG at four filling stations in Chandigarh and two filling stations in Mohali.
The company has also applied to lay a pipeline in Panchkula, Pinjore, Nalagarh and Baddi.
Indian Oil Adani Gas Private Limited has sought a no-objection certificate (NOC) from the Chandigarh Administration to start the CNG supply at four filling stations in Sectors 17, 26, 37 and 44 in Chandigarh and two filling stations at Sector 56 and Sector 62 in Phase VIII, Mohali.
Initially, the facility will be started at these four filling stations in Chandigarh, but later it will be extended to other filling stations in the city. The company will also start providing the PNG, used for cooking, by March.
The company will start providing the PNG at EWS rehabilitation flats in Dhanas and in housing societies at Sectors 49, 50 and 51 in Chandigarh and the area of Sector 63 falling in Mohali. The drawing for laying the pipeline in internal areas has been finalised and submitted for approval.
Residents of Zirakpur (staying near the Chhatbir area) will also get the PNG supply in the first phase by the end of March.
The company has almost completed work on laying the 31-km pipeline in the outer areas of the Chandigarh, while it is yet to start work in internal areas of sectors.
"As soon as the work on laying the pipeline is complete, we will start providing the PNG also," said an officer looking after the project. After Chandigarh, Panchkula, Nalagarh, Zirakpur and Baddi will also be connected soon.
He said domestic cooking fuel PNG was lighter than the commonly used liquefied petroleum gas (LPG). Besides, it was also safe and cost-effective. The facility would provide great relief to city residents as they would no longer be required to make bookings or wait for the dealer to deliver the LPG.
GAIL has already laid the main pipeline for the project from Bhawana in Haryana to Nangal in Punjab.
UT Adviser Vijay Kumar Dev said the Administration was committed to providing clean air to city residents. The CNG and the PNG would help in this direction.