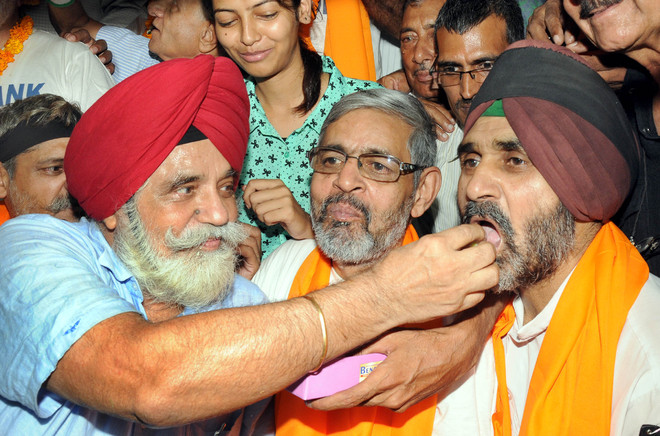 Soon after Prime Minister Narendra Modi clarified on "one rank, one pension", protesting veterans today ended their hunger strike but refused to call off their ongoing protest over unanswered questions and lack of clarity.
The veterans plan a rally on September 12 at Jantar Mantar and have made it clear that protests will continue till the government brings out an order clarifying the four key points left out in Saturday's announcement by Defence Minister Manohar Parrikar.
Fourteen veterans ended their fast-unto-death at Jantar Mantar by accepting "kara prasad" prepared at a gurdwara this afternoon.
Major General Satbir Singh (retd) of the Indian Ex-servicemen Movement (IESM) said: "The hunger strike is off, but the protests will continue till the government order is issued on premature retirement cases and equalisation of pension after every two years and not five".
Parrikar had on Saturday said those who had opted for VRS (voluntary retirement scheme) would not get OROP. But the armed forces do not have the concept of VRS or "golden handshake" like banks or public sector undertaking where a person seeking VRS gets a handsome lump-sum amount.
Almost 50 per cent of the forces — officers and jawans — take premature retirement after putting in their minimum qualifying service. In doing so, they help keep the force younger.
Not giving OROP to them would have defeated the purpose and also created a serious man management crisis for the forces, which need "young blood" to fight.
The Kargil Review Committee and the Ajai Vikram Singh Committee have suggested reduction in the age of commanding officers (COs).
A CO generally takes charge of an Army battalion, IAF squadron or a leading Navy warship around the age of 38 years. In the past decade, this profile has been lowered from the previous 40-41 years of age. From Colonel upwards i.e. Brigadier and above, the pyramid is quite steep. Just 3 per cent of the officer strength is of the rank of Brigadier or equals in the IAF and Navy.
No more than 30 per cent officers in the rank of Colonel get selected as Brigadier or equals in the IAF or Navy.
An officer generally becomes a Brigadier between 44 and 46 years of age, depending upon the arm of force he is associated with. In such a scenario, the government encourages premature retirement of officers after 20 years of service — or by the time they are 42-43 years of age.