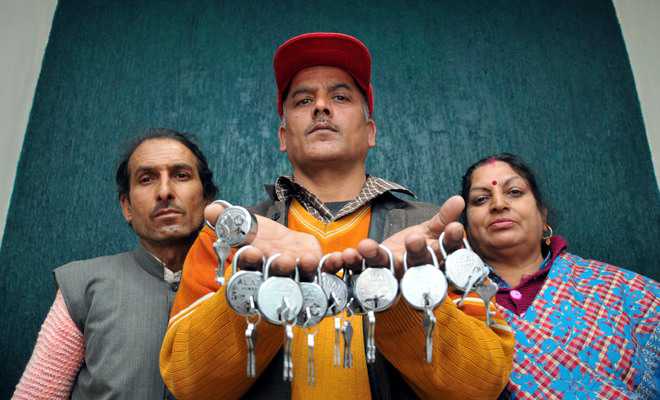 Ex-serviceman from the Army Madan Lal Sharma from Ghumarwin today asked the government to fulfil the demands of farmers displaced by the Kiratpur-Ner Chowk national highway project or face protest.
Farmers are demanding adequate compensation and demarcation of their land.
He said he had also sent locks to shut offices of the Chief Minister and the Revenue Minister and Bilaspur MLAs as they could not provide relief to over 10,000 farmers.
"If farmers' demands are not met, they will stop bulldozers of the NHAI's construction company on February 6 in Bilaspur", said Madan Lal.
He has formed the Four-Lane Visthapit and Prabhavit Samiti to plead the issues of farmers. "We have no way out other than sending locks to people's representatives as they are answerable to public," rued Madan Lal.
He said they had dispatched locks to the Prime Minister's Office and Central agencies as the letters, written to the PMO, had failed to serve the purpose.
He said the land of over 10,000 farmers from Bilaspur to Kiratpur in the 84-km stretch was being acquired.
He said IL and FS construction company was violating the pollution norms and turning the fields of farmers and the Sutlej and Gobind Sagar in Bilaspur into a dumping yard.
Madan Lal said they were in touch with the convener of the Fourlane Sangharsh Samiti, Mandi, led by Brig Khushal Thakur, a Kargil war hero, who had been spearheading the farmers' movement for seeking adequate compensation under the Land Acquisition Act.