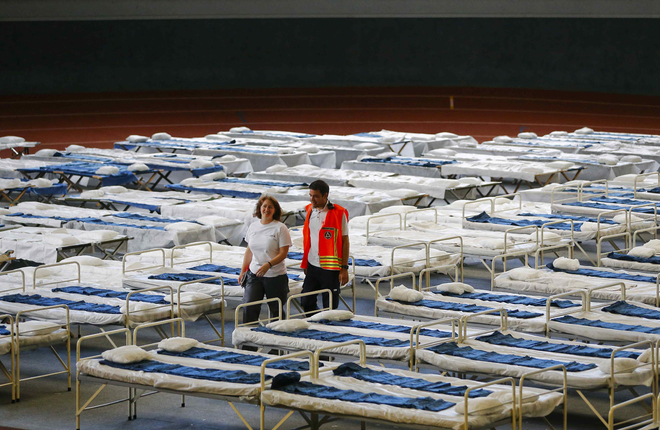 European Union members were on collision course on Monday over proposals to distribute asylum-seekers across the continent, a plan backed by safe-haven Germany but resisted by several ex-Communist states in the east.
A draft agreement to be discussed by interior ministers in Brussels later on Monday would see them agree to a proposal from the EU executive to relocate 120,000 of the most deserving cases around the bloc, but leave the way in which to distribute them for discussion over the next few weeks.
But the French and German ministers said they would push for firm commitments on the distribution, and a timetable, to be included in a final agreement they wanted to see on Monday.
"It is possible to achieve this, but ... I don't know if we'll manage it today," Germany's Thomas de Maiziere told reporters, describing Berlin's reimposition of border controls on the Austrian frontier on Sunday as a sign it would not accept a "de facto" distribution of migrants into Germany.
France's Bernard Cazeneuve noted that he had already last month set up new checks close to the Italian border and could follow Germany's lead in suspending Europe's Schengen open-frontier rules if necessary. He called for tighter controls on the EU's external borders and more help for Turkey and other countries which are already accommodating millions of Syrian refugees.
European Commission President Jean-Claude Juncker, backed by German Chancellor Angela Merkel and French President Francois Hollande, has proposed national quotas for EU states to take people in from over-burdened frontline states.
But that is opposed by some ex-communist eastern states, notably Slovakia, the Czech Republic and Hungary - even though the latter would benefit from the executive's plan. They argue that quotas would draw more migrants to Europe and disrupt their societies, which have not been used to large-scale immigration. "The quota system isn't the solution," Slovak Interior Minister Robert Kalinak said.
An initial pilot scheme to relocate 40,000 people from Italy and Greece will be formally enacted into law by the ministers.