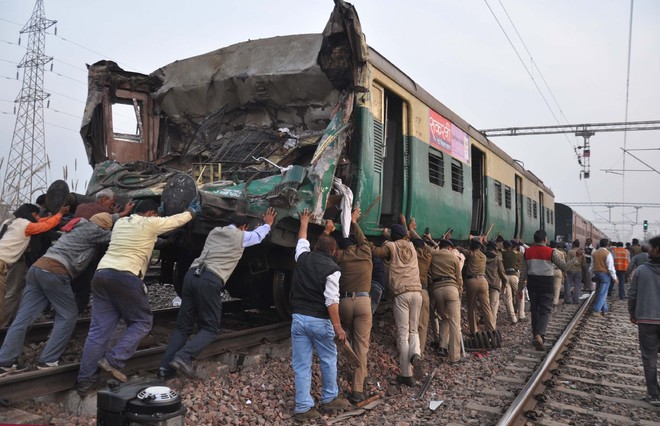 The driver of an EMU train was killed, while four others were injured in a collision between two trains on the Delhi-Mathura track near Janoli village in the district this morning.
AK Puthia, General Manager, Northern Railways, said the cause of accident was still to be ascertained. He, though, added foggy conditions could have caused the accident.
Sources, however, said either wrong signalling or EMU driverís fault led to the mishap.
Puthia ordered an inquiry into the incident.
The accident took place around 8.35 am when Haridwar-bound Lokmanya Tilak Haridwar Express coming from Mumbai had crossed Janoli. Palwal-Ghaziabad EMU train coming from behind on the same line rammed into the Lokmanya Express, resulting in the death of EMU driver Yash Pal (45). BB Gupta (59), guard of the express train, was among the injured.
The last bogie having the battery room and guard cabin of the express train was derailed due to the impact.
Railway officials said Yash Pal died almost on the spot, while Gupta sustained injuries in his head, right wrist and chest. He is admitted to BL Kapur Hospital in Delhi.
Two passengers travelling in the EMU train and identified as Banta Kumar Gupta (33) and Harishankar (29) sustained minor injuries, the railways said.
Sources said another passenger identified as Palwal resident Amar Singh, travelling in the EMU train, was also injured. He is under treatment at the Civil Hospital in Palwal. His condition is said to be out of danger.
The railway traffic, meanwhile, was disrupted for several hours. Officials, however, claimed train movement was resumed an hour after the accident.
Chief Parliamentary Secretary and BJP MLA from Badkhal, Seema Trikha, visited the accident spot.