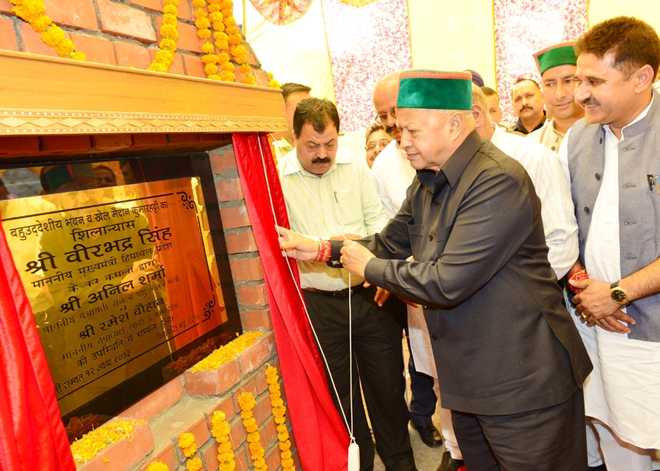 Chief Minister Virbhadra Singh today said sports should not be used for personal gains as it had been observed in the recent past that most of the games had been defamed due to betting.
ďBookies bet on amount which cannot be ascertained, but in the process, players and the sport earn disrepute. This is not in the interest of the nation and sports,Ē he said.
The Chief Minister was addressing people near Kumarhatti and Bohli in the Kasauli constituency today.
He said volleyball, kabaddi and wrestling were popular in the state. He called for the promotion of the traditional and rural sports. Virbhadra said the other modern games were introduced much later, asserting that the sport platforms should not be politicised and should be free from any controversies and discrepancies. Games should be played with the true spirit of sportsmanship and discipline.
He said the government was committed to developing adequate sports infrastructure in the state and many outdoor and indoor stadiums were being constructed, particularly in rural areas.
ďEvery panchayat and school will have a playground so that talent can be tapped from the rural areas to represent the state at various events,Ē Virbhadra said.
Earlier, he inaugurated the work on the Kanda Katal ka Bagh road, for which Rs 5.33 crore will be spent. He also dedicated the Grauni-Bohdon-Sari road constructed with an outlay of Rs 3.46 crore and the Rs 1.42 crore Joharji-Kaba-Kalan road.
The CM laid the foundation stone of a multipurpose sports stadium at Kumarhatti costing Rs 2.12 crore and a 33 kV sub-station at Gandhi Gram constructed at a cost Rs 5 crore. This will provide quality power to about 50,000 people.
He also dedicated the newly upgraded Shaheed Sikander Government Senior Secondary School at Bohli named after Kargil war martyr Sikander.
Virbhadra said education was the second priority area of the state government and preferably all educational institutions were being opened in the rural areas to benefit the girl child. He said a major part of the state budget was being spent on education and they were endeavouring to fill all vacant posts in all schools soon.
Social Justice and Empowerment Minister Col Dr Dhani Ram Shandil thanked the Chief Minister for upgrading 20 schools and four colleges in the district.
Ramesh Chauhan, vice-chairman, State Khadi Board, said the allegations levelled by the sitting MLA that the roads already in use were being inaugurated by the Chief Minister were baseless. He said the projects were approved by the previous Congress government.
Power Minister Sujan Singh Pathania, vice-chairman, State Planning Board, Gangu Ram Musafir were present.