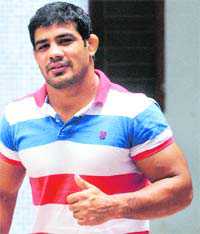 Sushil Kumar has finally broken his silence on the dope controversy surrounding Narsingh Yadav. With Yadav and the Wrestling Federation of India (WFI) alleging conspiracy, the needle of suspicion has turned towards the Sushil camp as the two wrestlers fought a bitter court battle just a while back for a place on the Rio squad.
In his first major interview after the controversy broke out, Sushil spoke at length to The Tribune. Excerpts:
What's your take on the whole controversy?
This is shocking to me. I never expected a wrestler of Narsingh's caliber to fail a dope test. I still can't believe that he actually took steroids. This is disappointing as he was one of our biggest medal hopes. I had a lot of expectations from him. We may have fought a bitter legal battle but I always treated him like a younger brother. I am sad for him, and equally sad for the shame it has brought to the wrestling community.
They suspect your camp is behind all this...
This is rubbish! I still can't believe that they (Narsingh and WFI) are accusing me for orchestrating this whole drama. It's totally baseless and I've nothing to do with it. It's wrong on their part to spread canards about me.
Are you hurt?
Obviously, they should talk sense. Come on, don't make wild accusations out of desperation. I am a double Olympics medallist with an illustrious career, I won't stoop this low. If you are accusing me, then better come up with evidence. I can also say certain things, but my upbringing doesn't allow me to harm someone's reputation.
Ours is a democratic society, people have freedom of speech here, so it's very easy to level allegations. Don't drag me into this mess. I am a very satisfied man. I have two Olympics medals and people of this country love me a lot.
Narsingh's camp says someone spiked his food supplement?
What do you mean by this? I contaminated it? I stay in the Chhatrasal Stadium in Delhi. I have a family to look after in Delhi. I am no longer part of the national camp. I don't train in Sonepat. I hope this clears the air.
Do you see any conspiracy?
Well, this is for WFI and NADA to establish. What can I say about it? But one thing is very strange. Why did WFI officials stay silent after Narsingh failed the dope test? They came out only after media broke the story. Their silence is suspicious. They did not need to send me but it's strange that they never thought of replacing Narsingh with some other wrestler.
Ideally, when they had come to know about his 'A' sample test, they should have sounded out his possible replacement. Had they done this, we wouldn't have gone without representation in the 74kg. Another important point is, Narsingh has bigger security cover than Yogeshwar Dutt and he is always surrounded by people.
Were you ready for Rio?
After losing the court battle, I had lost all hopes. I wasn't even practising for the last 20-25 days. Honestly, I wouldn't have gone to Rio even if the federation had approached me. It's not a state competition where you can enter the arena without any practice. I wasn't training properly, so I would have refused the offer. I have started practising only a couple of days back.
Do you feel Narsingh could have done it deliberately?
He is a very senior athlete and he should have been aware of the pros and cons. He should know about his food supplements. I always keep a doctor with me who constantly monitors my diet. When I returned from a 40-day training stint in Georgia, I was subjected to dope tests twice in a week. NADA can do it anytime without your knowledge. So, one just need to watch his intake.