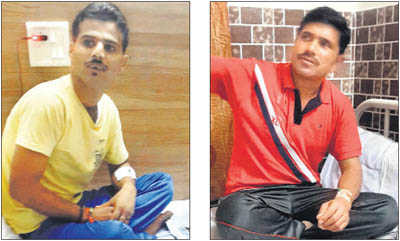 Trapped in a tunnel, they chewed up pages of a logbook and drank stagnant water from a breached pipe to survive in the hellhole for nine days. Scared? "We are ready to get back to tunnelling work as soon as possible," they say. And what kept them going? Prayers and unflinching faith in their village deity!
Nine days in Tihra tunnel-4 of the Kiratpur-Ner Chowk National Highway could not dent the confidence of Satish Tomar (26) and Mani Ram (30), though they appear to be frail and are under observation at the Bilaspur Hospital after being rescued yesterday.
Singing devotional songs and boosting each others' morale helped them sail through till help finally arrived in the form of torch, food and water on the evening of September 16. For nine days, a breaker machine was their bed as the ground was slushy.
As they oscillated between life and death, the duo did not allow negative thoughts or panic to overpower them. "The moment we noticed debris flowing into the tunnel, we ran to save ourselves and within seconds we realised that we were stuck," says Satish. He recalls how without wasting time they scanned their surroundings for an exit in the light of their mobile phones but to no avail. "All we encountered was a blind wall of debris as dark as death staring at us with no chance of survival," says Mani.
They found some gunny bags and dipped them in diesel of the machine they found in the tunnel to make a hand torch, lit with a matchbox. "It was with this light that we located the compressor pipe leading into the tunnel that was intact and had some air. It helped us sustain life," says Mani, adding: "Fearing that we may have to spend several days in the tunnel, we consumed water from the breached outlet pipe judiciously."