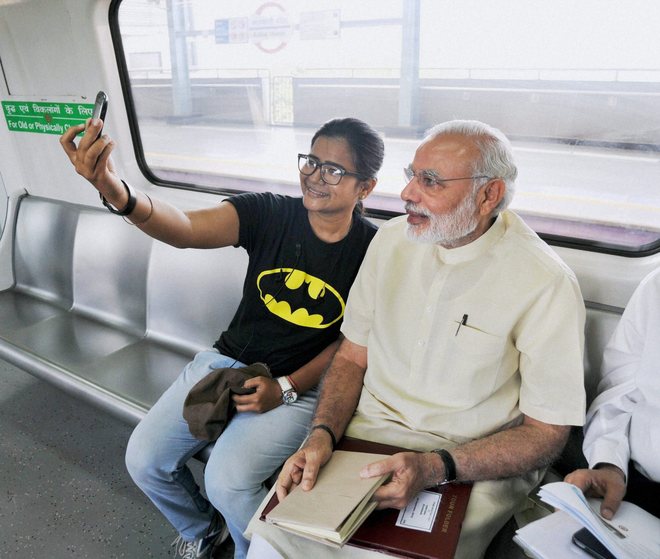 A day after the government announced "one rank, one pension" for veterans, Prime Minister Narendra Modi today sought to set the record straight, saying soldiers who retired prematurely or those injured or disabled in the line of duty would be entitled to benefits under the scheme. The PM took on the previous governments for unprecedented delay in its implementation and "misleading" the fraternity on early retirement benefits.
The Prime Minister, while addressing a "Gati Pragati" rally here, said 90 per cent of the force comprised soldiers who worked in junior positions, fought on the frontline and retired after putting in 15 to 20 years of service. "Some feel they will not be entitled to the benefits. But we believe they are the first ones who should get this benefit. Our decision was inspired by their love for the nation."
Modi, who arrived here from Delhi in a Metro after unveiling the link on the Badarpur-Mujesar section, justified the delay in the announcement of OROP.
"It wasn't easy. The previous government had given an estimate of Rs 500 crore, while we expected it could go up to Rs 700 crore. But as we went deeper into studying the implication, we realised it needed Rs 8,000-10,000 crore," he explained in his address. The Prime Minister said those responsible for the delay in OROP's implementation had no business to question the government and that the government was willing to implement the scheme at the cost of other projects.
"For 40 years, it was hanging fire and they could not work out a solution. I'm only responsible from May 26, 2014, after our government took over," he said, taking a dig at the previous Congress-led UPA government.
He recalled kicking off his campaign as the BJP's prime ministerial candidate from Haryana by addressing ex-servicemen in Rewari and said he had now returned to the state after fulfilling his commitment. The PM said there were certain apprehensions about the commission set up by the government. "The commission is purely to address any shortcoming the scheme may have," he explained.
A delegation of ex-servicemen met the Prime Minister to express their gratitude for OROP. Citing development as the panacea for all challenges, including unemployment and poverty, Modi said the country could not be run by merely playing politics ("rajneeti") but required a nationalist policy ("rashtra neeti"). "Our government is working on the single-point agenda of ushering in development — making roads, laying rail tracks, providing better education, improved facilities among others. That is all our country needs.
I wish all this had happened in the past 60 years and we could have taken it forward but there is so much that needs to be done," Modi emphasised, adding a
home for every Indian by 2022 would be a befitting celebration to mark 75 years of the country's Independence.
Modi did not announce any new project for Haryana but he said the metro rail connectivity would be extended up to Ballabhgarh.
On global economic meltdown, Modi said his government's planning had helped India weather the storm. He reiterated his "strong connect" with Haryana saying the state was his "second home". "I keep coming back for the love you gave me. I vow to repay it with interest by way of bringing in development," he said. He praised Chief Minister Manohar Lal Khattar for being "unmatched when it came to working hard". The state, better known for female foeticide, had changed its complexion and was now associated with "Beti bachao, beti padhao" programme.
"Metro's arrival in Faridabad will prove to be an economic driver, bringing weekend tourists and jobs. With Faridabad making it to the list of 'smart cities', the challenge is far from over. Every citizen will have to partner in making it 'smart' and pledge to keeping it clean," said Modi.
Khattar recounted his government's achievements saying the Kundli-Manesar-Palpal expressway was back on track while the state had unveiled an all-new industrial policy which had stirred investors' interest in Haryana.