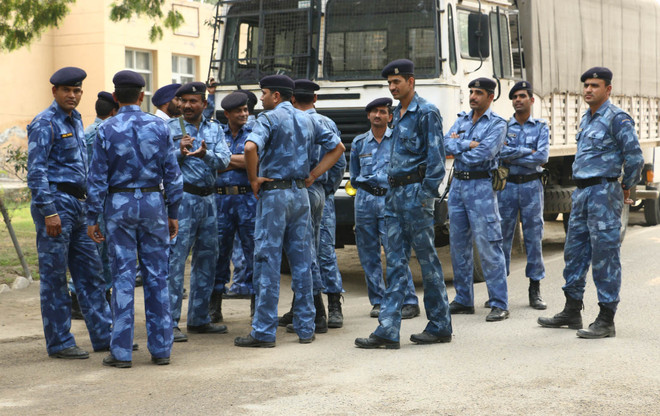 A day after clash between the police and public at Khokhar village, the police slapped numerous cases against them. On the other hand, farmers and villagers took out protest rallies and burnt state government's effigies in three villages today.
Forty-five villagers — 21 by name — were booked and two arrested. One of the arrested men is a gurdwara granthi from a nearby village.
Farmers and activists of various Sikh organisations had yesterday hijacked an Akali minister's stone-laying event.
Not willing to give up, PWD Minister Janmeja Singh Sekhon today again went to Kararwala village, where he "successfully" laid the foundation stone for the same project, i.e. widening of a road, amid heavy deployment of police force.
Before his arrival, the police, apprehending a protest like yesterday, rounded up many villagers, including women.
"What is the point in visiting villages like an emperor, without public support, by keeping the entire police force and government machinery on tenterhooks even on a Sunday," said block president of BKU (Ekta-Ugraha) Master Sukhdev Singh.
He said farmers, too, would not relent and would give a befitting reply to the state government. "We too held a parallel programme of burning effigies of the state government in Jethuke, Pitho and Khokhar villages," Sukhdev said.
He said the police had shown no mercy on farmers as they were dragged and beaten up and five of them had sustained injuries.
The police have registered two separate cases for damaging the foundation stone, burning the tent and inflicting injuries upon policemen. Jagjit Singh Bhunder of the BKU said they held separate meetings in villages wherein it was unanimously decided that they would continue to protest against SAD leaders and ministers by greeting them with black flags.
Extending their support to farmers, Panthic Committee member Sandeep Singh Khokhar, Gurdwara Committee member Angrez Singh said they, too, would support the voice of public against injustice.