In Ludhiana, a 29 year old woman, Hardeep Kaur, was just found dead at her in-laws house. Her brother, Harpreet Singh, informed the police that she had been frequently harassed by her in-laws about a dowry, and he alleged that the in-laws murdered her. According to Harpreet, Hardeep had just recently returned to her in-laws house under the assurance that she wouldn't be harassed again.
Considering the circumstances, it seems the assurances were false. Hardeep leaves behind a 7 year old son and a 1 and 1/2 year old daughter.
According to sources, Hardeep's brother Harpreet Singh, a resident of Vishkarma colony under the Shimlapuri police station, received a call from Hira Singh's brother-in-law Karamjit Singh informing that Hardeep had died under mysterious circumstances. He said when he went to his sister's house, he found the house empty and the body of Hardeep was lying in a room. [link]
No arrest has been made yet, and Hardeep's body has been sent for a post-mortem.
The race for dowry, is linked to the over-extravagance of weddings. Dowries used to be functional when weddings used to be functional. But as weddings have become status symbols, so has everything associated with them - the boutique/designer a bride buys her wedding clothes from, the weight of gold and diamonds, the type of transportation she and the groom use to get to the wedding/reception (apparently helicopters are in these days).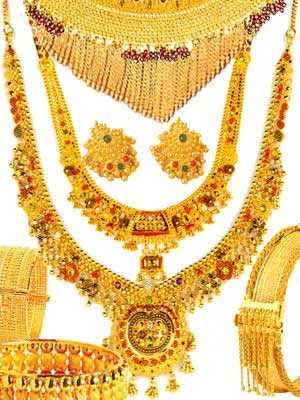 We've discussed before whether and how the Anand Karaj has lost its meaning to the afterparty. In cases where attention is entirely or even mostly on the materialistic aspects of the wedding, or where the result is similar to Hardeep's, it definitely has.