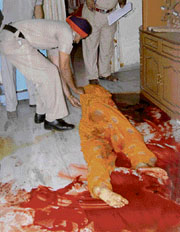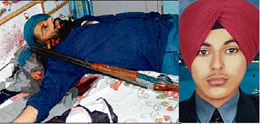 Kharar, April 8
A head constable attached with a deputy inspector-general (DIG Home Guard), Punjab, shot himself after killing his son and wife.
Bhupinder Singh, a resident of LIC Colony here, suspecting her fidelity, shot his wife Jaswinder Kaur, and 18-year-old son Robin with his gun at 8.45 am.
Injured Robin called his neighbour Paramjit Kaur on phone and told her his father had shot him and his mother. Paramjit raised the alarm in the neighbourhood and the police was informed.
By the time people reached Bhupinder's home, he had shot himself too and his body was found in the bedroom.
Robin was found panting in the lobby and Jaswinder lay dead next to him. Robin was shot in the chest while Jaswinder in the head. Robin was taken to local civil hospital from where he was referred to the PGI, Chandigarh. He succumbed to his injuries on the way.
Bhupinder had shot himself in the temple and his ear was found 10 feet away from his body and the gun hanging from his shoulder. Three unused cartridges were found near his body, six were found in his pockets and one loaded in the gun.
Steel tongs were found beside Jaswinder's body. The scene suggested verbal duel before Bhupinder shot his family.
Jaswinder may have been working in the kitchen before the quarrel with Bhupinder. Robin might have tried to intervene and was gunned down.
Bhupinder was a native of Dubali village and had moved to LIC Colony seven years ago. Robin was a student of Government Polytechnic Institute in Sector 26, Chandigarh.
DIG (Home Guard) Darshan Singh Mehmi visited the spot. A case was registered against Bhupinder Singh for killing his family. The bodies were handed over to the relatives after a post-mortem examination in the evening.