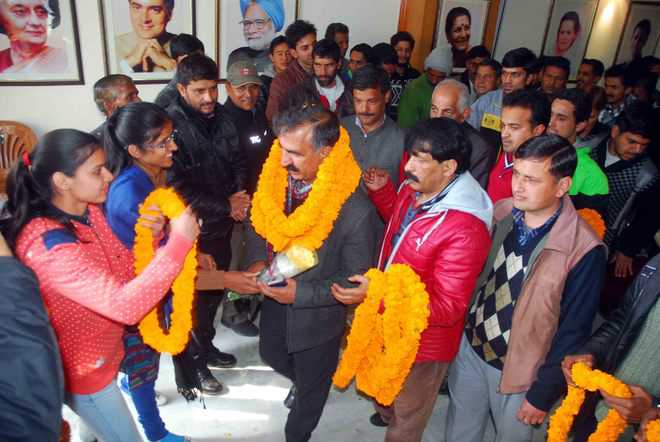 With no let-up in the allegations and counter-allegations over the "black sheep", who voted against the Congress to help the BJP capture the Kangra Zila Parishad, the Congress today announced that a committee will look into the charges.
HPCC president Sukhwinder Singh Sukhu confirmed that he had been getting complaints from senior party leaders against members, who had won zila parishad (ZP), block development committee (BDC) and urban local body (ULB) polls, joining hands with the BJP in the election of chairman and vice-chairman.
"A committee, comprising senior leaders, will be constituted soon to look into all such complaints and submit its report within a month," said Sukhu. He said though the ZP and local body elections were not held on party symbol, if Congress-backed candidates worked against the party, strict action would be taken. He added that those holding party positions could even be removed from their posts.
To ensure smooth conduct of election of chairman and vice-chairman of ZP and ULBs, Sukhu had entrusted duties to ministers and senior party men, mainly HPCC general secretaries, in every district.
The Congress has had to face major embarrassment in Kangra as despite claims of a majority in the zila parishad, the BJP bagged the post of chairman, leaving the Congress red faced.
Despite Chief Minister Virbhadra Singh taking interest and ensuring his presence in Kangra a day before the election, the BJP managed to woo the disgruntled elements in the Congress.
"Though the Congress has done exceptionally well in the elections, owing to bickering among the senior leaders, it could not capture the top posts," admitted a minister. Though Virbhadra has warned that strict action will be taken against the "black sheep", the counter-allegations are contining.
A senior minister in Kangra has even said the Congress never had the majority in the ZP, a statement contradicting the Chief Minister's claim. There have been several places, including Kangra, the Solan Block Development Committee, the Nalagarh Municipal Council and other places, where despite having majority, the top posts went to BJP, following bickering in the party.
CM's take
Nurpur: Chief Minister Virbhadra Singh said today that the "black sheep", who had cross- voted in the zila parishad election in Kangra had been recognised and their names would soon be made public.
Addressing a press conference here, he said backstabbing would not be tolerated. The Congress had won a majority of the zila parishad top posts, barring Kinnaur, Hamirpur and Kangra.
He said HPCC chief Sukhwinder Singh Sukhu had never said Rajya Sabha MP Viplove Thakur committed any indiscipline. In a reply to a letter released by former minister and senior BJP leader Kishan Kapoor yesterday over the Central University issue, he said the letter was fake. The letter was not written on his letterhead and not signed by him and did not contain his official logo.