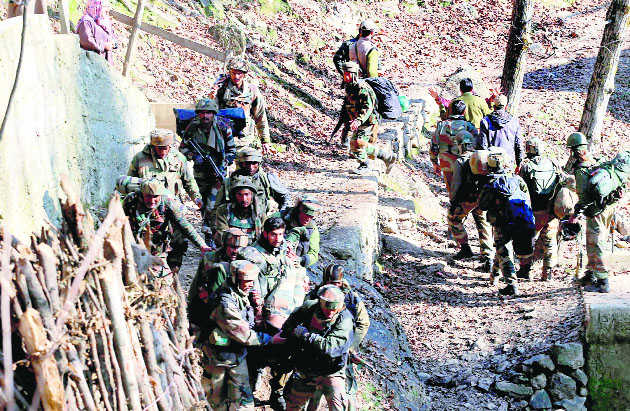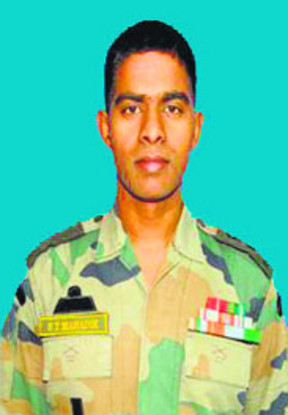 A Colonel of the Army's elite Para Commando unit was today killed and a policeman injured in a firefight with militants in north Kashmir's frontier Kupwara district.
Colonel Santosh Mahadik, Commanding Officer of 41 Rashtriya Rifles, belonged to 21 Para Regiment (Special Forces) and had been successfully leading his RR unit engaged in anti-militancy operations.
Sources said the officer was relentlessly pursuing a group of 3-5 militants of Lashkar-e-Toiba in the forest area of Manigah Haihama, Kupwara, nearly 120 km from here, for the past few days.
"Various anti-militancy operations are on in the dense forest area of Kupwara
over the past few days. An input was received today morning that the militants had come to Kashmiri Manigah hamlet, close to a forest area, for meals. Thereafter, Colonel Mahadik led the team of his unit and Special Operation Group (SOG) of police. As they were combing the forest area around 1pm, the hiding militants opened indiscriminate firing, critically wounding the Army officer and a policeman," a source privy to the operation said.
"The injured were shifted to an Army hospital where the
Colonel succumbed to injuries," the source said, adding that the operation to track down the militants was on when last reports were received. "The Colonel was a true soldier. He had been awarded Sena Medal for exhibiting gallantry and leadership in counter-terrorist operations," Srinagar-based defence spokesman Colonel NN Joshi said.
Colonel Mahadik hailed from Godlo in Satara district of Maharashtra. Born on January 15, 1977, he donned olive green in December 1998. He leaves behind wife, seven-year-old son and a five-year-old daughter. A police officer said Colonel Mahadik was keen on flushing out the hiding ultras. "Let us chase them," he had reportedly told the police officer after the operation was launched.
The combing operation in the forest of Haihama has been on since Friday in which so far an Army officer has been killed and two soldiers and policeman have been injured. The operation was launched by the Army, SOG J&K Police and para commandos. The militants managed to flee at least twice after contact was established with them by security forces.
Colonel Mahadik is the second Commanding Officer of an RR Battalion to have been killed this year in the region. On January 27, Col Munindra Nath Rai, who was commanding 42 RR, was killed in an encounter at a village in Pulwama district.