Carnegie Mellon University Gets Rs 231 Crore from TCS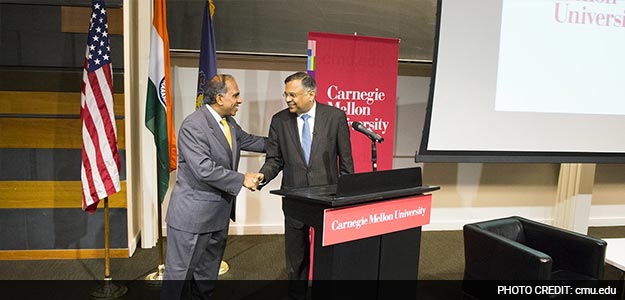 Carnegie Mellon, a top US-based research university has received $35 million (Rs 231 Crore) as a gift from Tata Consultancy Services.
The donation to Carnegie Mellon University will be used to build a new 40,000 square-feet facility -- Tata Consultancy Services Building and to fund student scholarships at the university, TCS said in a release on Tuesday.
"The new facility, a stand-alone structure, will support education and research at the university and will provide space for TCS staff to interact with CMU faculty and students"
The donation is the largest-ever gift given by any corporate to the Carnegie Mellon and is also highest-ever donation it has received from outside of US, the university said on its website.
"TCS is proud to invest in this landmark partnership with CMU to promote market-driven innovation and accelerate advancements in technology," N Chandrasekaran, chief executive officer and managing director of TCS said while announcing the donation.
Carnegie Mellon is a private research university in Pennsylvania and was ranked 24th among global universities by the Times Higher Education (THE) magazine in its annual publication of university rankings.
"CMU is one of the few American universities to offer a degree in bagpipes and it counts at least 16 Nobel, 41 Emmy and four Oscar winners among its alumni," the magazine says.