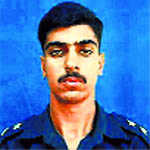 The Centre today informed the Supreme Court that India could not approach the International Court of Justice (ICJ) against the inhuman torture of Kargil war martyr Captain Saurabh Kalia and other prisoners of war (POWs) by Pakistan. It said both countries were in the Commonwealth whose members had agreed not to approach the ICJ over hostilities and armed conflicts.
Solicitor General (SG) Ranjit Kumar made the statement in response to a query by a Bench comprising Justices TS Thakur and Kurian Joseph as to why the government was shying away from the ICJ when it was going to the global forum for resolving water disputes.
The ICJ could be approached only if both countries were willing, he said. The SG said the government had paid salaries and pension of 54 POWs, believed to be in Pakistani jails ever since they went missing in the 1965 and 1971 wars. The amounts were handed over either to their families or deposited with the judiciary wherever there was no claimant. In some cases, the amount was over Rs 50 lakh. The arrear payments representing salaries and pensions were made in 2012-13 by presuming that the missing personnel were in service till the time of their normal superannuation, the SG said.
The Bench, however, wanted to know whether the compensation included interest for the delayed payments. Before the SG could respond to the query, the Bench adjourned the hearing for a week at the request of some of the petitioners.
Besides a PIL filed by Kaliaís father, the SC is hearing petitions over the 54 POWs and others and an appeal by the Centre against a Gujarat High Court judgment on the issue. Of the 54 personnel (38 officers and 16 in other ranks), 27 were in the Army, 24 in the Air Force, two in the Navy and one in the Border Security Force. The SG said the status of the 54 POWs was not known as the Pakistan government had time and again refused to acknowledged their presence in its jails.