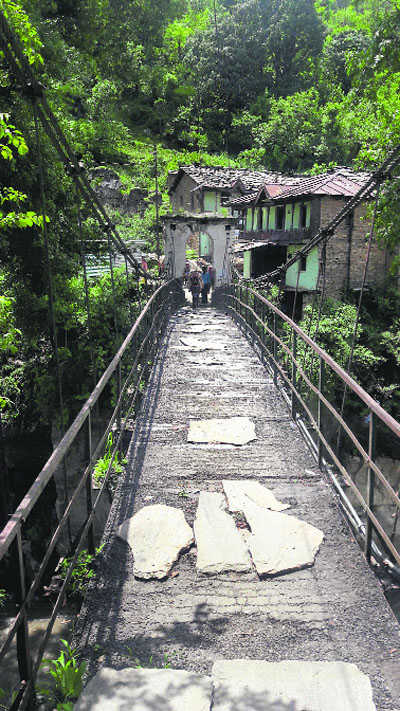 Residents of Bhiri town in Rudprayag district are irked over the dilapidated condition of a footbridge over the Mandakini, which is on the verge of collapse. The British constructed the bridge in1889 on the old Kedaranth trek route, near Bhiri, in Rudraprayag district. Schoolchildren from nearby villages and other residents use the bridge to cross the river, risking their lives in the process. Mules also pass over the bridge daily.
Considering its importance, the British erected the bridge in 1889 for the convenience of visitors to link them to Ukhimath and Rudraprayag.
Dinesh Prasad Semwal, a social activist from Bhiri, showing gaping holes in the bridge said it had crumbled at several places and most of its suspenders had snapped, making it risky for local residents. He added more than 300 students use the bridge for going to their schools.
Semwal said the Public Works Department (PWD) and Chief Minister Harish Rawat had been apprised of the situation. PWD officials had given a report that the bridge was not fit even for repairs and should be demolished to pave the way for a new one. The name of Bhiri town has been derived from Pandava warrior Bhimsen of the Mahabharata.
Mukesh Semwal, state president the Social Unity Center (SUCI) Communist Party, said several such bridges were damaged during the natural calamity in 2013 but this bridge withstood the rage of the ferocious Mandakini. The British had with utmost care selected the place having hard rocks on two sides working as abutment.
Tragically, the bridge that has faced that rough time is dying due to government neglect. He said residents of Damar, Temeriya, Phegu and Burmair villages were forced to cross the dangerous bridge every day.
"It is unfortunate that the Uttarakhand government will wake up when some calamity occurs," said Mukesh Semwal.
PWD officials said a few months ago they had received a letter from Dinesh Semwal but refused to comment on the present status. Residents have demanded immediate construction of a new bridge or they would launch a massive agitation.