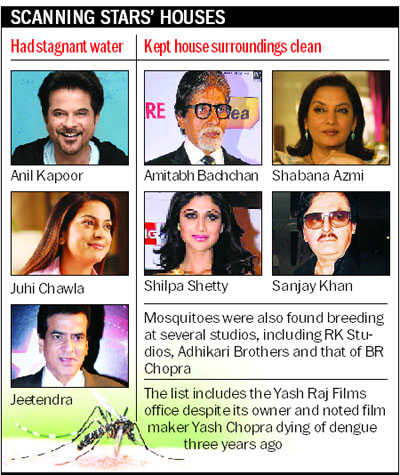 Several big Bollywood studios and residences of prominent personalities from the film world have been found "breeding" the Aedes aegypti mosquito, which causes dengue.
The Brihanmumbai Municipal Corporation (BMC) said several studios like RK Studios, Adhikari Brothers and BR Chopra were found to have created favourable conditions for the mosquito to breed. The list includes the Yash Raj Films office despite its owner and noted film maker Yash Chopra dying of dengue three years ago.
All of them were issued notices by the BMC and their representatives will have to appear before a magistrate.
Civic officials also searched the residences of prominent actors. While Anil Kapoor, Juhi Chawla and Jeetendra were found to have created favourable conditions in their homes for the mosquitoes to breed, others like Amitabh Bachchan, Shabana Azmi, Shilpa Shetty and Sanjay Khan kept clean homes.
"People keep flower pots and containers in the open in which rain water is collected and allow mosquitoes to breed," Rajan Naringrekar, chief insecticide officer of the BMC who led the raids told this reporter. He said that civic officials from every ward are going door to door advising people to empty bottles in which money plants, feng shui plants, etc are grown. "Even a bottle-cap filled with water is sufficient for the dengue mosquito to breed," Naringrekar said.
Civic officials said in many buildings occupied by well-to-do people, terraces were used to store junk like old tyres, metal containers, etc, which tend to fill up with stagnant water.