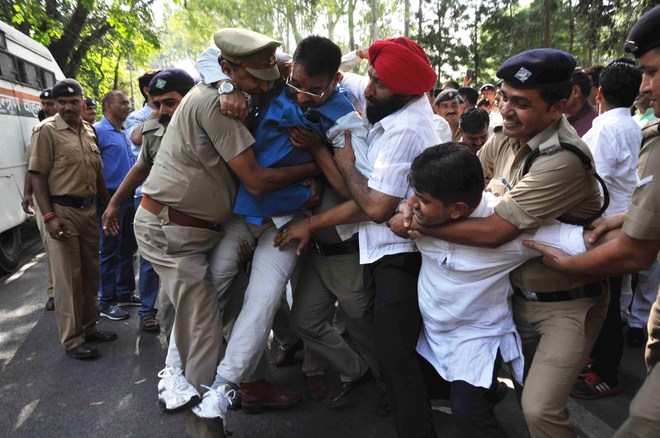 Protesting against the Congress government's alleged oppressive campaign launched against BJP MLAs, the Uttarakhand BJP MLAs held a sit-in outside the residence of Chief Minister Harish Rawat here today.
Led by state BJP chief Teerath Singh Rawat and Ajay Bhatt, leader of the Opposition in the Uttarakhand Assembly, the state BJP MLAs and office-bearers took out a march from the BJP headquarter. On reaching the Cantonment road, some of the MLAs managed to break the barricade and the police cordon and reached the residence of Chief Minister, sat on a dharna and raised slogans against the Congress party and the Chief Minister. The MLAs included Rajesh Shukla (Kichha), Swami Yatiswaranand (Haridwar, rural), Daleep Singh Rawat (Lansdowne), Adesh Chauhan (Ranipur) and others. Later, the police bundled up the MLAs in the police van and whisked them away to the Police Lines.
Earlier, a minor altercation ensued between the police personnel and BJP leaders at the police barricade erected on the Cantonment road. The police party managed to stop BJP chief Teerath Singh Rawat and Ajay Bhatt where both leaders lashed out at the Congress government for unleashing a reign of terror against BJP MLAs. "We will be forced to break the CMs residence gate, in case the police try to forcibly evict the MLAs from the gate," said Teerath Singh Rawat.
On the other hand, Ajay Bhatt accused the Chief Minister of trying to put the BJP MLAs behind bars by allegedly asking the police to register false cases against them.
Meanwhile, commuters had to undergo inconvenience as they were stopped at several points leading to traffic jam at many places.
BJP MLAs Vijaya Barthwal, Arvind Pandey, Prem Agarwal, Bhim Lal Arya and Malchand did not participate in the dharna.