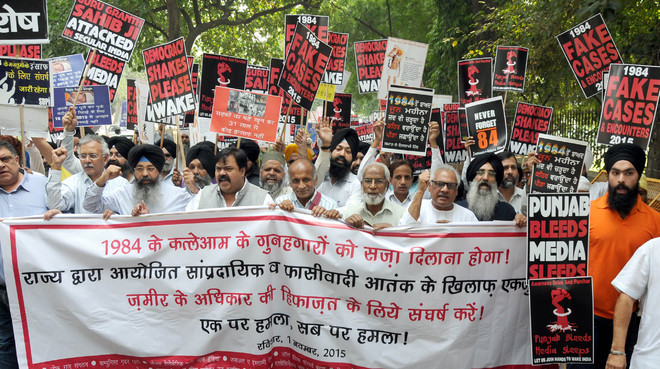 On a day when the AAP government in the national capital distributed 1,332 compensation cheques to victims of the 1984 anti-Sikh riots, the Akali Dal accused the BJP of not doing anything to get justice for the victims.
Separately, groups of protesters seeking justice marched from Mandi House to Jantar Mantar, carrying placards to remind the government of the riots.
Speaking at the 'ardaas' (prayer) to mark the end of the three-day 'Akhand Path' at the historic Bangla Sahib Gurdwara here, Manjit Singh GK, the president of the Delhi unit of the Akali Dal, accused the CBI of working on the same pattern as it worked during the Congress regime.
"During the Congress regime, the CBI used to file closure reports (of the 1984 riot cases) and it is still doing the same. We were hopeful that when this (BJP) government comes to power, we will get justice," alleged GK.
"Sikhs had great expectations from the BJP, but under this government also, the CBI and the Delhi police are favouring the perpetrators of the genocide...the CBI is intentionally weakening investigations in the cases of genocide," alleged GK. He further said Sikhs had laid their lives for the nation, but in return various political parties had deceived them.
The Akhand Path was held in the memory of the innocent Sikhs killed in the 1984 genocide. Nearly 2,785 Sikhs were killed in Delhi alone during the riots that followed the assassination of Prime Minister Indira Gandhi on October 31, 1984.
Meanwhile, AAP convener and Delhi CM Arvind Kejriwal started distributing compensation cheques of Rs 5 lakh each to the families of the victims of 1984 riots. He handed over the cheques to 1,332 affected families today. The Delhi Cabinet took a decision on August 12 this year to not wait for the Ministry of Home Affairs (MHA) to sanction money for the same. A sum of Rs 130 crore has been set aside for compensation.
A government official said, "We hope the MHA reimburse us the amount, but so far we have not received any assurance."
Kejriwal and the Delhi Deputy CM Manish Sisodia paid homage to the 1984 riot victims at Tilak Vihar in West Delhi. The Chief Minister has said he is thinking of setting up a special investigation team to ensure speedy justice for the victims.