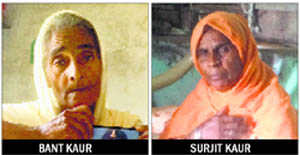 An invitation by the Punjab government to a daily wager's family in Daladdi village of Nabha, Patiala, is being mocked as Bant Kaur does not know if she should feel proud or hang her head in shame. Fifty years ago, she lost her husband Pyara Singh in the 1965 India-Pakistan war, but the successive governments, she says, did nothing for her and her family except granting her the pension she still gets.
A day before the state government celebrates the 50th anniversary of the war to honour widows of the martyrs at a function in Tarn Taran, two war widows have a similar tale of sorrow and neglect to narrate. Both remarried after being "ignored" by the successive governments but hope better things would come their way and the sacrifice of their husbands would not be forgotten.
Bant lives in a two-room kucha house on a pension of Rs 12,000 per month, given by the Army in return of the valour and sacrifice made by her husband. Her current husband and son work as daily wagers.
Similar is the fate of Surjit Kaur, widow of Jangir Singh who died in the 1962 Indo-China war. On meager pension, she lives in the neighbouring Alhaura village and has received no help from the state government till date.
"I was around 20 years old when my husband left for duty. Just a few months after our marriage, he was killed in the line of duty on November 3, 1965, serving The Sikh Light Infantry," Bant recalls.
"Four years after my husband went missing, his fellow soldier from the same regiment approached me and gave me some of my husband's personal belongings. Till then, we had believed that he was a prisoner of war," she said.
"The government announced 10 acres for war widows and 1977 was the deadline. No one informed us nor was I educated to know how to apply for it. Later, I had to run from one government office to another, but all I got was assurances. Now, my son from the second marriage does the same. He runs to government offices to seek compensation for me so that I can spend my old days with comfort," she says.
Bant's son Gursewak Singh says just before the 2007 Vidhan Sabha elections, the state government had issued a circular stating all pending arrears or compensation towards the war widows be paid immediately.
"The announcement raised some hope but since then our application is lying at the Sainik Welfare Office, Punjab," he claims. Surjit had received a letter from the army stating that on December 9, 1962, Sepoy Jagir Singh's body was recovered from the Chinese side and he was serving the 4 Sikh. "All my pleas and letters written to various state government departments and successive Deputy Commissioners in Patiala have failed to bring anything for me or my family. I regret the day when my husband chose to leave me," said Surjit, who lives in a dingy one-room house.