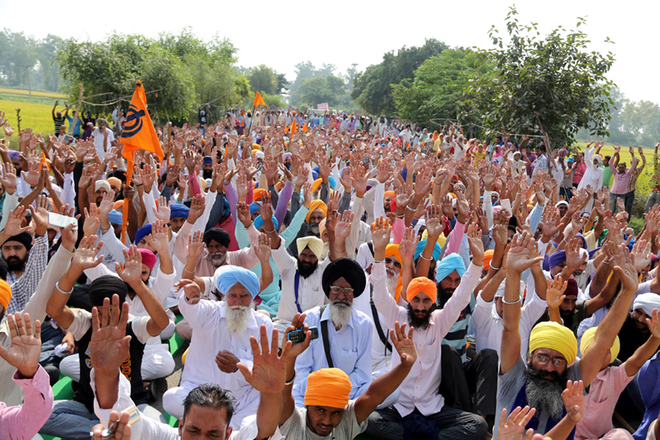 Never have the Akali Dal leaders faced public hostility the manner they are facing now. Even when the militancy was at peak in 1980s, senior Akali leaders were never humbled as is the case these days.
Two days ago, the police had to rescue certain Akali ministers from a function at Badiala village near Rampura Phul. Farmers and others started raising slogans against them and forced them to leave the function. Earlier, a similar incident took place near Samana. About two weeks ago, certain Akali MLAs and leaders faced public wrath at Kapurthala and Adampur, near Jalandhar.
A good number of SGPC members have resigned. Several Akali leaders have also quit the party. The latest addition to the list is Balwant Singh Ramoowalia, who joined Akhilesh's cabinet in UP yesterday.
Even BJP Ministers have been taking pot shots on the SAD leadership. Taking a dig on the SAD leadership, BJP Minister Anil Joshi reportedly said it was suppressed anger of people that is spilling on to the roads. He said when justice was denied, people react in the form of protest. Another BJP minister Madan Mohan Mittal too poured his heart out at the concluding function of the investors summit.
The SAD was first confronted by farmers' agitation for several days. Now, panthic organisations are up in arms against it. Most worrying aspect is that no one has faith in what the government and its agencies say. All this has not happened in a day. It is the direct consequence of skewed governance due to political interference at various levels.
Over centralisation of power is the most visible reason. Almost all top Akali leaders believe in dynastic rule. They never think beyond their immediate family and close relations. Most leaders use workers to advance their career but when any opportunity arises to share the political dividend, then immediate family members are preferred and promoted.
The real challenge before the SAD leadership is to diagnose what has gone wrong that their popularity dipped to a low ebb.