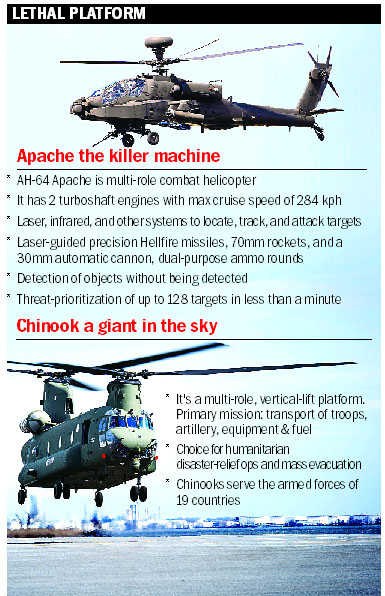 The Cabinet Committee on Security (CCS) headed by Prime Minister Narendra Modi today cleared the deal to acquire two types of specialised helicopters for the Indian Air Force (IAF)—one for undertaking attacks and the other for lifting heavy loads.
At present, the IAF uses Russian/Soviet-produced helicopters for both these roles.
The CCS okayed the decision to buy 15 of the 47F Chinook helicopters that will lift heavy loads and 22 AH-64D Apache attack helicopters. It is estimated to cost $2.5 billion (around Rs 16,500 crore). Both types of helicopters, which were used extensively in Afghanistan, are produced by Boeing, the Seattle-based US aerospace giant. There is an option clause of buying seven more Chinooks and 11 Apaches.
This is the first time since early 1960's that India has opted for a "purely lethal use" platform produced in the US. Purchases over the past one decade from the US have largely been restricted to transport planes such as C-17 Globemaster-III and C-130-J Super Hercules, besides surveillance planes. Apache will be the first to cross the five-decade-old hurdle put up while India was part of the Soviet Union bloc during the Cold War (1946 to 1991).
In the past, "dual use" US-built platforms have been inducted, but never was a "only-a-war-waging-platform" inducted. This included the INS Jalashwa, a landing platform dock—a ship that can land troops close to the land, but has limited attack ability. It came with a clause that India could not use it in the event of a war. The other being the Boeing P8-I, primarily surveillance planes used by the Navy, that can also carry missiles to hit underwater submarines.
The 22 Apache Longbow gunships, armed with Hellfire and Stinger missiles, are expected to be attached with the "Strike Corps" of the Army based at Ambala, Mathura and Bhopal. The attack copters move in tandem with own tank columns and rain armoury onto enemy tanks. The Chinooks will be used in the mountains and to ferry guns and troops to inaccessible locations in the Himalayas. The newly set up Mountain Strike Corps headquartered at Panagarh will be its prime user.