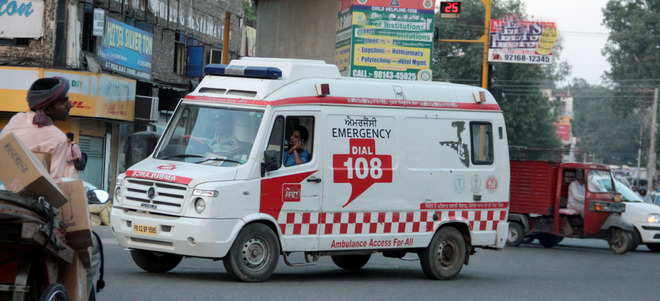 Photographs of CM Parkash Singh Badal have finally been removed from 108 ambulances.
Despite facing a strong onslaught by the Opposition, the ruling SAD-BJP government had held on to those pictures for long.
On Independence Day, the Punjab Government distributed cycles to students under the Mai Bhago Scheme without the earlier flagship picture of the Chief Minister.
Jatinder Sharma, Project Director of 108 ambulances, said that he had got orders from the state government a week back citing the orders of the Supreme Court regarding the ban on the use of pictures of the CM and ministers for advertisement purposes. Following that, the photographs had been removed.
ďA communiquť had been issued by the State General Administration Department to all departments directing them to ensure that no picture of any minister should be used on government stationery, forms, cards, vehicles or advertisements. We have removed the pictures after this order,Ē he said.
While the Supreme Court order had come in May, Punjab and Haryana High Court advocate HC Arora had ó on June 4 ó served notice to Chief Secretary, Punjab, and Principal Secretary, Health, to remove the photos of Chief Minister Parkash Singh Badal from the ambulances of 108 emergency service, terming it a violation of the Supreme Court order.
ďI am happy that they have done it before I could pursue my notice. Even the Comptroller and Auditor General (CAG) of India had pointed out that the Punjab Government had forgone central grant worth Rs 23.8 crore under the National Rural Health Mission for its refusal to remove the CMís photograph from the 108 ambulances,Ē Arora said.
Former Punjab Youth Congress chief Vikram Chaudhary had challenged the use of Badalís photo on 108 ambulances in the Punjab and Haryana High Court terming it a misuse of the central scheme.