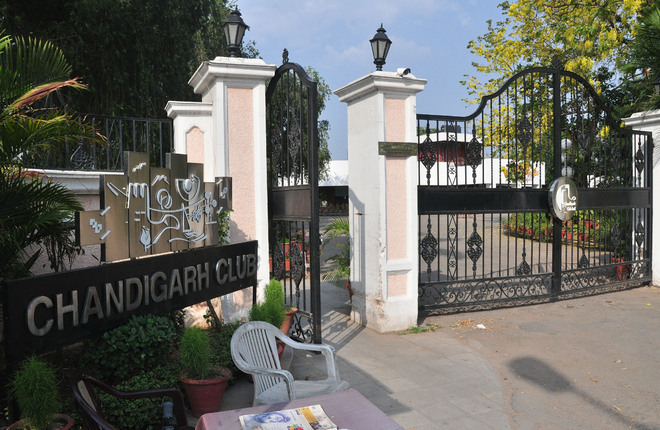 Finally, after more than 11 years, the Chandigarh Club will go to the polls on January 30 next year to elect the new executive body.
The decision to hold the elections for the posts of president, vice-president and eight executive members was taken at a meeting of the Chandigarh Club executive today.
Confirming the development, Sandeep Sahni, president, Chandigarh Club, said the executive committee today decided to hold the elections on January 30. The decision would soon be communicated to all members of the Chandigarh Club, he said.
The Chandigarh Club is the oldest club in the city, functioning since 1957. The club has around 8,000 members, including the region's who's who — politicians, bureaucrats and businessman. The Chandigarh Club is spread over 8.5 acre.
The last elections of the club were held in November 2004 when Mukesh Bassi was elected president. In 2011, when Bassi was elected councillor of the Chandigarh Municipal Corporation, he had resigned from the post of president.
Thereafter, the vice-president of the club, Sandeep Sahni, was made the president. Sources said earlier the elections were not held as cases were pending in court.
Elections talk of the town
The Chandigarh Club elections have become the talk of the town as the club membership list boasts of former and serving ministers and politicians of Punjab, Haryana and Chandigarh, judges, bureaucrats, lawyers and businessmen.
Club lease row to bekey poll issue
The UT Administration and the Chandigarh Club management are at loggerheads over fixing the lease amount of the club. It will be a key issue in the coming elections of the club management. The UT Administration has proposed Rs 13 lakh per month as the lease amount for the Chandigarh Club. At present, the club is paying Rs 1.51 lakh per month as the lease amount to the Administration. The Administration had leased out the Sports Centre in Sector 1 to the Chandigarh Club in 1957 for Rs 50 a month. Thereafter, on two occasions, the lease amount was revised in 1971 and 1982. The club paid a monthly rent of Rs 8,320 till January 1, 1993. The rent was revised in 2000 to Rs 2.08 lakh per month with retrospective effect from 1993. The club filed a petition in the Punjab and Haryana High Court against the revision of rent. It was assessed again at Rs 1.08 lakh for the period after January 1993. Then in 2005, a new lease was signed after the direction of the High Court with a rent of Rs 1.08 lakh fixed for five years plus 5 per cent increase every year.