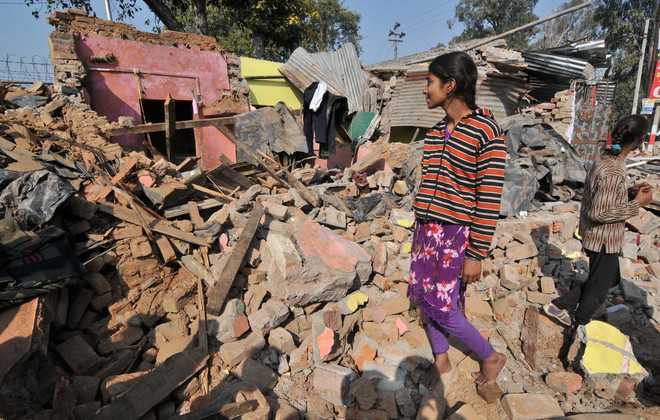 Post Pathankot airbase attack on January 2 by heavily armed Jaish-e-Mohammed terrorists, the administration dismantled five makeshift shanties of some families raised by the compound wall of the Air Force Station at Satwari here this morning.
While uprooted families, comprising 35 members, including toddlers and old women, claimed that they had been putting up in the shanties on six marlas since 1971, the administration dubbed them as encroachers, whose shanties were a serious security threat to the Air Force Station post-Pathankot attack.
Akhtar Ali, one of the dwellers, said the land had been allotted to the five families in 1971, but their occupation was challenged in the court of law in 1997.
"In 2014 the court had awarded a decree in our favour. This morning a strong posse of police and higher officials barged into our houses, beat up men, women and children besides throwing away our belongings in the open," he alleged.
He alleged that the administration had not served any notice on them.
Meena Begum, another dweller, said all the families with their belongings were then herded into a minibus and dispatched to Pir Baba in Chatha.
Yakoob Mohammed, another protester, said their shanties, which provided shelter to their children and old parents, were dismantled, but other concrete structures along with the compound wall of the Air Force Station were not even touched.
"We are children of a lesser God and that's why we are bound to suffer," he rued.
However, Jammu Deputy Commissioner Simrandeep Singh said notices were duly served on the occupants, who refused to accept them.
"They lost their case in the court of law and around 20 days ago I also convened a meeting with them trying to convince them of moving to some other place," he said.
Following the Pathankot airbase attack, a Defence audit has observed that these shanties could be possible launching pads for terror attacks, he added.
Simrandeep Singh stated that he personally told one Gulabo, a leader of these families and an employee of the Cantonment Board, that the administration could provide them Rs 25,000 from the Red Cross Society funds so as to enable them to live as tenants in some alternative accommodation before making their permanent lawful arrangement.