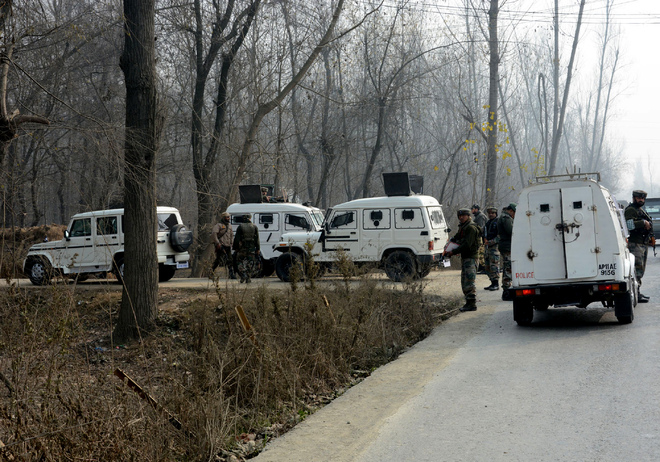 Seven CRPF men and a civilian were injured after unidentified militants, wearing army fatigues, attacked a paramilitary convoy along the Srinagar-Jammu national highway in Bijbehara town of south Kashmir's Anantnag district, 45 km south of Srinagar city.
"All injured are being treated at different hospitals in Srinagar and are now out of danger," said Anantnag SSP Abdul Jabbar.
He said the attack took place about 9:55 am on Monday when militant's ambushed buses that were part of the Srinagar-bound CRPF convoy.
The injured CRPF personnel told mediapersons at the hospital that the attackers were in army fatigues. The attackers managed to flee unhurt after carrying out the attack. The injured CRPF personnel were admitted to the sub-district hospital in Bijbehara and later referred to Srinagar hospitals for specialised treatment.
"We treated eight CRPF men here. Seven had bullet injuries and one of them had some other injury apparently due to a fall at the site of the attack," Dr GS Mehta, Medical Superintendent at sub-district hospital in Bijbehara.
He said the injured were in a stable condition but needed further medical attention.
The injured are from 53 Battalion and 189 Battalion of the CRPF. They have been identified as Sub Inspector Raja Ram and constables Sanjay Kumar, Om Prakash, S Gopinath, Shoban Nayak, Gurdeep Singh and Devinder Singh.
The injured civilian, Rayeed Ahmad Dar of Pulwama district, was evacuated to Srinagar with a bullet injury in his head.
Dar is being treated at Shri Maharaja Hari Singh Hospital in Srinagar, where one of his attendants told the media that he was sitting in a private bus just behind the attacked CRPF bus. "Doctors say that he is stable now," the attendant added.
CRPF spokesperson Ashish Kumar Jha told The Tribune that the attack was a moment of grief for the force but praised his men for putting up a brave front.
"The driver of the attacked bus, despite getting injured, took the bus to safety. It is commendable how our men retaliated despite being taken by surprise," said Jha.
Traffic on the national highway remained disrupted for about 40 minutes as the police and the CRPF cordoned off the affected stretch of the highway. A manhunt was launched immediately after the attack as the police, Army and the CRPF carried out extensive searches in the area.