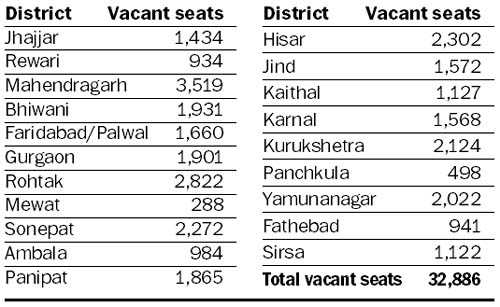 Unlike previous years, the B.Ed course has evoked a dismal response this time as more than 55 per cent seats remain vacant at private B.Ed colleges being run under the self-financing scheme (SFS) across the state.
Sources said 32,886 of the 58,532 seats in 474 private colleges across the state are lying vacant even after the end of three rounds of counselling for admission.
Though another chance has been given to the aspirants by filing fresh applications up to September 24, the possibility of filling all vacant seats seems remote.
The college owners say the enhanced duration of the B.Ed course along with the same fee structure is the main cause for the diminishing interest in the course this time. Notably, one-year duration of the B.Ed course has been increased to two years.
"We will have to suffer huge losses if the aspirants do not turn up for admission as more than 50 per cent seats of our college are vacant.
There was no need to increase the duration of the course as it has made the aspirants choose other options," said the owner of a private B.Ed College.