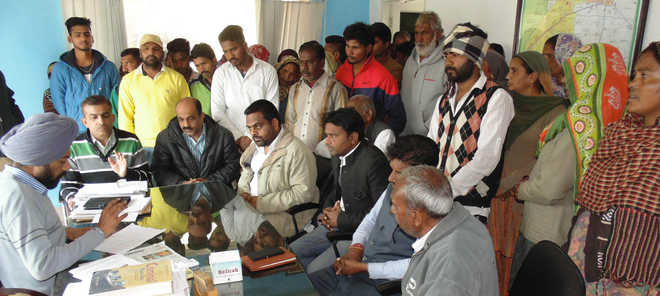 The Bhim Tank Murder Action Committee and local residents today criticised the police for registering a case against four local youths, who allegedly torched one of Shiv Lal Doda's liquor vends. They alleged Doda's men were trying to frame the youths to weaken the stir against the brutal murder of Dalit youth Bhim Tank.
The case was registered on the complaint of Sunil Kumar, who works for Dodas' firm Vansh Enterprises. He alleged that Rohit, Akshay, Mandeep and Sagar had tried to set afire a liquor vend in Dayal Nagari at 10.30 pm.
Since December 11, when Tank was killed at Doda's farmhouse in Ramsara village, the police have registered five similar cases against different persons.
Action committee convener Gopi Ram Sandar, councillors Ganesh Sablania and Dharamvir Malkat, city Congress committee officials Sanjeev Tarika, Bharat Jat, Bhim's father Kapoor Chand, mother Kaushalya Devi and others met Superintendent of Police Harjit Singh today. They demanded that "unauthorised" liquor vends in 34 urban wards and rural areas be shut down.
The SP said he would probe the FIR. He also asked the Excise Department to provide the approved site plans of sale outlets to ascertain how many unauthorised shops were operating in the area. He said he would take action against the culprits.