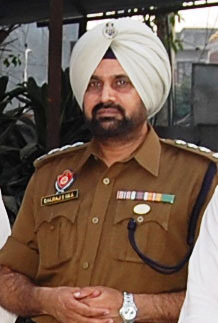 A local court today convicted three persons for killing Moga Deputy Superintendent of Police (DSP) Balraj Gill, a President's medal awardee, and a woman at a farmhouse near Ludhiana on February 1, 2012. Three other accused in the case were convicted for offences other than murder. The quantum of sentence will be pronounced on September 11.
Harwinder Singh, alias Binder; Pritpal Singh, alias Ladoo; Umesh Karda, all residents of Talwara village, were held guilty under Sections 302 (murder), 404 (dishonest misappropriation of property possessed by deceased), 465 (forgery), 467 (forgery of valuable security), 471 (using forged document as genuine one), 201 (destroying evidence) and 120-B (criminal conspiracy) of the Indian Penal Code.
Co-accused Ravinder Singh, Hussanjit and Davinder Pal Singh Laddi were held guilty under Sections 201,465,467,471 and 120-B of the IPC. DSP Gill and Monica were found murdered at a farmhouse in the Golf Link area, near Hambran Road, on Feburary 1, 2012. The accused entered the farmhouse with an intention to rob the occupants.
However, when they realised that one of the occupants was a DSP, they eliminated him and the woman fearing they may be exposed.
The police had tough time to solve the murder mystery for want of any witness. The case was cracked on April 5, 2012, with the arrest of one of the accused. On June 15, 2012, the local police filed a 374-page chargesheet against the accused.
The special public prosecutor examined 42 witnesses to prove charges against the accused while the defence counsel examined five witnesses.