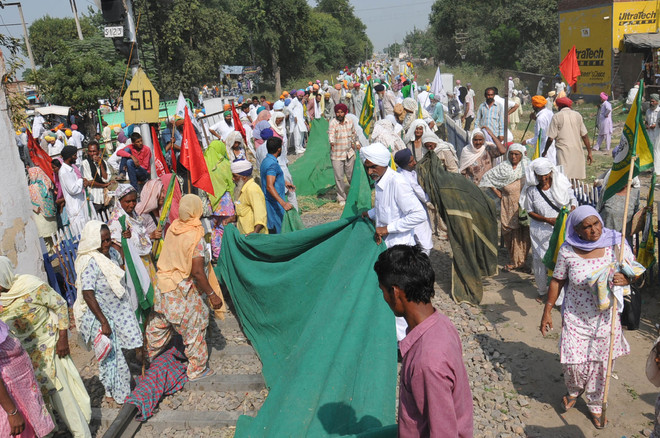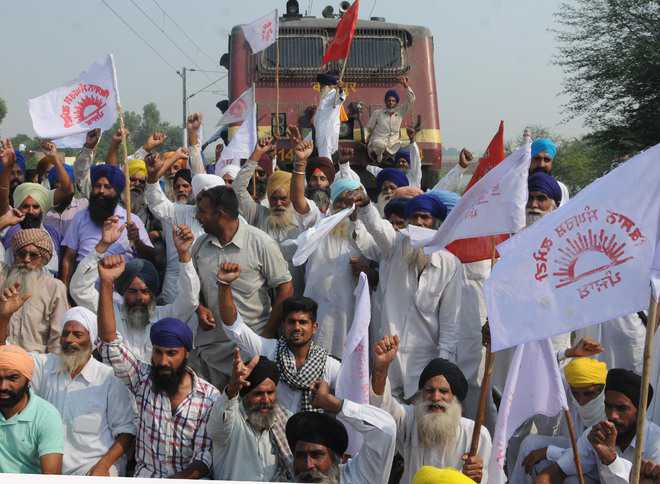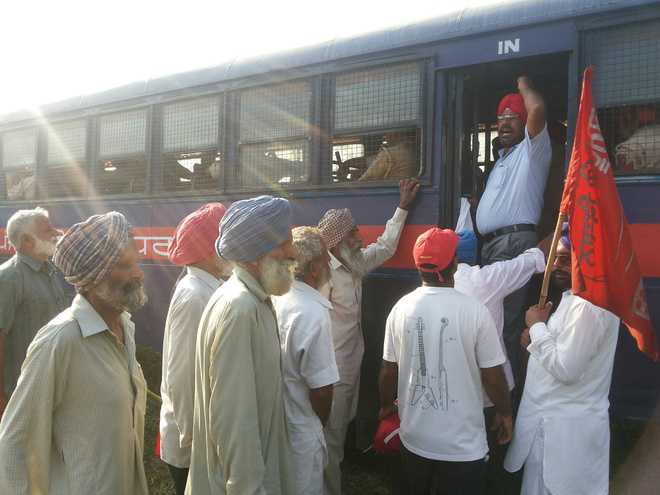 Farmers owing allegiance to various organizations today went ahead with their "rail roko" agitation in support of their demands. Even as the government took preventive measures, the farmers were largely successful in their attempt to express their resentment against the government.
Faridkot: Farmers blocked rail traffic at Chandbhan Railway Station here for over two hours. Train service was hit on the Ferozepur-Bathinda-Muktsar section after 250 farmers blocked the tracks. Three passenger trains and a goods train were delayed. The police later rounded up the farmers.
Bathinda: Farmers today blocked rail traffic in Bathinda and Mansa districts, harassing commuters. They blocked 'Sarairola Express' at Mansa station. Farmer leader Shingara Mansa said no farmer was arrested in the two districts. Around five trains were suspended till 5 pm with farmers blocking Bathinda-Bikaner, Bathinda-Ambala, Bathinda–Delhi, and Bathinda-Rewai rail routes.
Phagwara: Rail traffic on Phagwara-Jejon and Phillaur—Nakodar-Lohian routes was suspended due to farmers' agitation. Farmers blocked the rail tracks at Behram Railway Station around 2 pm and near Kang Araian in Phillaur. Over 65 farmers were rounded up. Farmers also blocked various roads.
Jalandhar: Around 50 farmers blocked the railway track for around four hours near Mahunwal village in Nakodar. With little traffic on the Phagwara-Nawashahr route, rail service wasn't hit. The police rounded up around a dozen protesters.
Sangrur: Farm labourers and the activists of Zamin Prapati Sanghrash Committee, led by district convener Mukesh Malaud, today gheraoed a goods train for an hour at the railway station here. The police rounded up over 150 activists, who were let off later.
Moga: Farmers blocked the Moga-Ferozepur railway line at Dagru village. Only one train passed through this section early in the morning. Trains were halted at Ferozepur, Moga, Ludhiana and other railway stations. The police said no activist was taken into preventive custody as some BKU leaders had gone underground.
Amritsar: Several activists of various farmer organisations today blocked rail traffic near Muchhal village. Though the police had made elaborate security arrangements to foil their 'rail roko' agitation, farmers managed to converge on the rail tracks at Muchhal village. Seven trains were cancelled from Amritsar and six diverted. Baba Bakala SDM Vimal Setia and SP Balbir Singh reached the dharna spot, but there was no dialogue between the two parties till the filing of the report.
Barnala: The police today took around 500 farmers into custody to foil their 'rail roko' agitation in Sangrur and Barnala districts. However, farmers managed to block rail tracks at Lehragaga for over half-an-hour. The Hisar-Ludhiana passenger train had to be stopped at Lehragaga railway station.
Ferozepur: Several commuters were inconvenienced today as nearly two dozen trains were cancelled due to farmers' agitation. Sources said 23 trains were cancelled, six diverted and two terminated short of destination.
Ludhiana: The police detained over 150 farmers who were reportedly trying to block railway tracks at gate no. A-88, near Phillaur, today. More than 100 farmers were detained in Ladhowal and Phillaur area and around 60 farmers at Hambran police post. The farmers were heading towards Phillaur from Jagraon.
Patiala: Farmers could not block railway tracks as the police had made elaborate security arrangements. Trains ran uninterrupted in the district. Sources said the police took around 250 farmers into preventive custody. Local MP Dr Dharamvira Gandhi met the farmers and expressed concern over their cause. He said it was unfortunate that the police had booked 72 farmers.
What drove them up the wall
Cotton debacle: Farmers in the Malwa belt incurred huge losses due to whitefly attack on their cotton crop. The farmers are demanding Rs 40,000 per acre relief while the government announced compensation at the rate of Rs 8,000 per acre.
Pesticide scam: The supply of spurious pesticides that failed to check whitefly attack added to the farmers' woes. Though the government has arrested the Agriculture Director, the farmers are demanding the resignation of Agriculture Minister Tota Singh.
Basmati free fall: The prices of basmati have fallen drastically this year, forcing farmers to go for distress sale. Though the government has announced to buy basmati 1509 at paddy MSP of Rs 1,450, the farmers want Rs 4,500 per quintal for 1509 and Rs 5,000 per quintal for 1121 variety.
Sugarcane dues: Private sugar mills in the state are yet to pay Rs 135 crore to cane growers. While mill owners want the government to arrange for loan to clear the outstanding payments, farmers demand immediate release of their dues.
Relief in suicide cases: The farm unions have sought Rs 5 lakh financial assistance to the family of farmers who committed suicides due to ongoing crisis.
Protest on till 4 pm today
Farmer leaders say they will not lift rail blockade till 4 pm on Thursday. They say they will decide on further action at a joint coordination committee in case the government fails to accept their demands. Anuj Prakash Divisional Railway Manager Ferozepur Division said the government should take measures to prevent farmersfrom disrupting rail traffic.
Prominent unions
BKU Ekta (Dakunda)
BKU Ekta (Ugraha)
BKU (Krantikari)
Kirti Kisan Union
Punjab Kisan Union
Jamhuri Kisan Sabha
Kisan Sangharsh Committee (Satnam Singh Pannu)
Kisan Sangharsh Committee (Kamalpreet Singh Pannu)
WhatsApp group to facilitate farmers
Gurdaspur Deputy Commissioner Abhinav Trikha, officials of the Agriculture Department and more than 100 farmers have formed a WhatsApp group to address problems related to Basmati procurement . It is helping the administration in addressing complaints of farmers who are at the mercy of commission agents, millers and traders in Gurdaspur, Batala and Dinanagar. The group, 'Young Innovative Farmers', was set up by Gurdaspur Agriculture Development Officer Amrik Singh in August last year.
The crackdown
In Phillaur, the police detained more than 100 farmers and union leaders. The Ladhowal police detained around 60 farmers while the Phillaur police detained more than 30
In Barnala, around 500 farmers were rounded up from different locations. They were not let off till the filing of the report
In Phagwara, more than 65 farmers were rounded up by the police while blocking the road and rail traffic.
In Patiala, the police claim to have taken over 100 farmers into preventive custody, but sources say around 250 farmers were rounded up. The district police booked 72 farmers under Sections 107/151 of the IPC