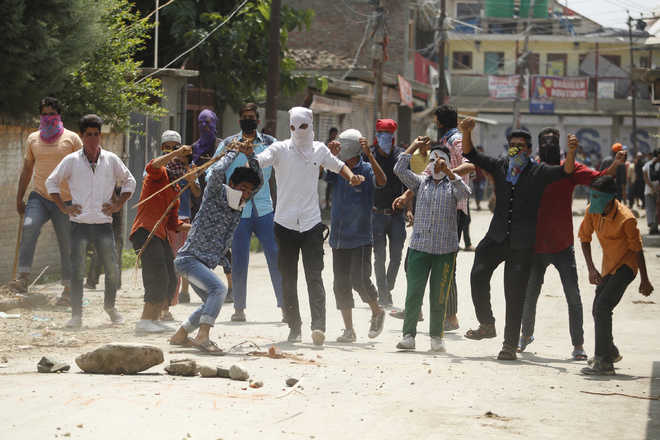 Nearly 100 persons were injured in clashes between protesters and security forces, which continued for the 27th day of ongoing protests across the Kashmir valley.
A day after the killing of ATM guard Reyaz Ahmad Shah in the Karan Nagar area, curfew continued in downtown areas and was extended to the Batamaloo area today, with many areas witnessing fresh protests. With Shah's death, the toll during the ongoing protests in the Valley reached 50.
Even as curfew continued in Anantnag, Shopian and Pampore towns and restrictions remained in force in other parts of south Kashmir, the epicentre of trouble that erupted after militant commander Burhan Wani's killing on July 8, at least 50 persons were injured in fresh clashes today.
Protesters clashed with personnel of security forces in several areas of Anantnag, Pulwama, Kulgam and Shopian districts.
Over 14 persons with pellet and shell injuries from different areas of the Kashmir valley were received at Shri Maharaja Hari Singh Hospital here by the evening, said the hospital authorities.
Nearly 20 civilians were injured in Shopian areas during the clashes as residents protested raids during the night by security forces in the different areas.
Six others were injured in clashes after the police stopped a rally at Seer Hamdan in the Aishmuqam area of Anantnag district.
Four others were injured in clashes with police personnel after the rally was stopped in the Srigufwara area of the district.
Demonstrations followed by clashes with police personnel were reported from Damhal, Hanjipora and Kulgam areas and Aang on the outskirts of Anantnag. There were no injury reports from these areas.
Over 10 persons, including five women, were injured in Kupwara district in north Kashmir when protesters were intercepted by security forces at Chotipora in Handwara on the Baramulla-Kupwara road.
The police used teargas shells to disperse the civilian protesters. The injured were later referred to the local hospital, sources said.
Clashes between protesters and police personnel were reported from the Kaloosa area of Bandipora in north Kashmir, where the police had to resort to teargas shelling to disperse the protesters.
The government decided to prevent a separatists' march to Hazratbal on Friday to maintain the law and order situation in the summer capital and elsewhere in the Valley.