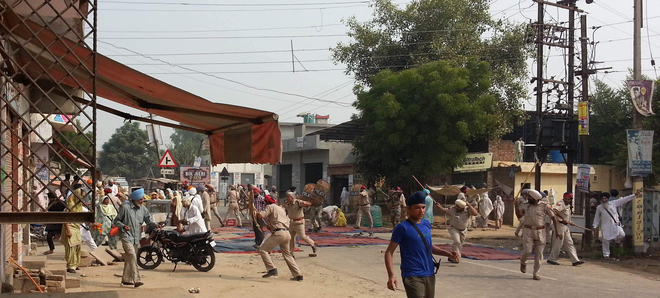 At least 10 police personnel, including an SP, were injured in a clash with activists of radical Sikh groups at Buttar Kalan village in Moga district today.
The Sikhs had blocked the Moga-Barnala national highway in protest against the sacrilege of the holy book at Bargari village in Faridkot district. However, the policemen allegedly resorted to cane-charge on the "peaceful" protesters, which triggered violence.
A group of radical Sikhs blocked the NH passing through this village demanding stern action against those who tore the pages of the religious book.
The local police tried to clear the blockade, but they failed to convince the protesters. The policemen resorted to cane-charge to disperse the protesters, which triggered violence. The protesters started throwing stones on the policemen and their vehicles.
SP (D) Harjit Singh Pannu, ASI Sukhwinder Singh, ASI Balwinder Singh and seven other cops were injured in the clash. Many protesters also received injuries, but no one reported to government hospitals/dispensaries.
The police fired shots in the air in self-defence. As the police fired in the air, the protesters resorted to stone throwing. However, no one received bullet injuries.
The injured police personnel were immediately rushed to the district hospital at Moga for treatment. One of the policemen who reportedly suffered spinal injury was referred to the DMC hospital at Ludhiana.
A stone hit SP (D) Harjit Pannu on the jaw. He was rushed to a private hospital in Moga. He is said to be out of danger.
Late in the afternoon, the district administration managed to lift the blockade from the national highway after a series of dialogues with the protesters.
The situation was brought under control by the evening, but atmosphere was still tense. There was resentment prevailing among the local people.
"We were on a silent protest against the sacrilege incident, but the police all of a sudden resorted to cane-charge, which led to the clash," said Surjit Singh, granthi of the local gurdwara.
A senior IPS officer of the Punjab Police revealed that Deputy CM Sukhbir Singh Badal was upset over the incident. He directed the district administration to sort out the issue immediately.
Highway blocked
Moga: Radical Sikh organisations also blocked the Moga-Kotkapura highway outside the Guru Teg Bahadur Polytechnic College at Rode village in the Baghapurana subdivision of Moga district today to protest against the yesterday's sacrilege incident.
Residents of of Rode, Rajeana, Samalsar, Ladhaika, Vairoke, Sekha, Langeana and other adjoining villages gathered on the highway in large numbers and blocked traffic.
The blockade started around 10.30 am and continued till 4.45 pm. No vehicle was allowed to pass through this road.
SAD (A), Sikh bodies burn effigy of govt
Sangrur: In protest against the sacrilege of Sri Guru Granth Sahib, activists of the SAD (Amritsar) and various Sikh organisations burnt the effigies of the state and Central governments here on Tuesday. They termed the Bargari incident an outcome of the alleged "failure" of the Badal government and the Sikh clergy in performing their duties to protect the interests of the Sikh Panth in a proper manner in the recent past. They also took out a march through the main bazaars of the city. Sushil Goyal
Bir of holy book burnt to ashes
Muktsar: A 'bir' of the Guru Granth Sahib was burnt to ashes when a fire broke out at Baba Jiwan Singh Gurdwara at Kotli Ablu village in Gidderbaha subdivision of the district here on Tuesday. The matter came to light when some villagers saw smoke billowing out from the single-room gurdwara. Kotbhai police station SHO Jaswinder Singh said investigations suggest that the fire broke out because of short-circuit. We are probing the matter, as it is a serious issue." Archit Watts